All-around ambition
Sky Sports spoke to gymnast Sam Oldham after injury led to a frustrating World Championships.
Last Updated: 22/10/13 1:59pm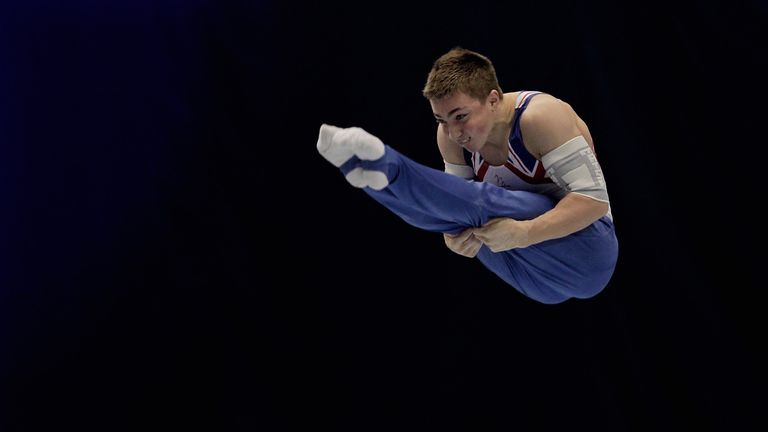 To the untrained eye there is no sign that this is a gymnast still searching for peak fitness, having recently suffered an ankle injury that left him struggling to walk at times just a week or so before. That he was also competing at the World Championships at that time is even more remarkable.
It is only when he comes over to say hello and get a drink of water that the strapping on his left ankle becomes visible, showing that the gruelling work he is taking on so impressively is being done by an athlete still feeling the effects of a heavy fall shortly before the season's biggest competition in Antwerp.
"It's not too bad," says Oldham of his ankle. "I'm rehabbing it. It's still sore but I'm strengthening all around my ankle just to try and offload all the pressure that's going all around my ankles. Hopefully in a few weeks, a couple of months it should settle down and be back to normal."
The issue for Oldham is that the injury struck at the worst possible time. After months building up to the World Championships and getting to a level where he felt he could challenge the best gymnasts in the world for the medals, an injury so close to the tournament was difficult to take.
The 22-year-old from Nottingham revealed that he was happy enough with how his championships went, considering the injury he was carrying, but, ultimately, he was unable to reach his goal of competing in the all-around competition. Oldham competed on the floor but a place in the final eluded him.
"It went OK," he says. "I mean it could have gone better but with the preparation I had it went about as well as it should have done. I wasn't expecting too much more - I was hoping for more - I wasn't expecting too much more. I was struggling to walk a lot of mornings.
"So just doing floor and being in that situation, the level of fitness I had, it wasn't ideally where I'd want to be going into a major. I was accepting of the result but I was obviously disappointed, I obviously wanted more. Also I'd been training for so long, I'd put so much in to that, going and doing all six, doing the all-around so it was pretty gutting not going and doing it."
That teammates Max Whitlock, Dan Purvis and Kristian Thomas were able to achieve success in Belgium - Whitlock and Thomas returned home with silver and bronze medals, respectively - was of some comfort to Oldham. Not that their achievements didn't come with a pang of frustration on his part.
"Obviously, I'm really happy for Max, and for Dan," Oldham says. "That second all around slot was between me and Dan really. I'm really happy for him because he's struggled the last year and a half or so, it's great for him to be back out there - he looked like his old self (as he finished fourth on the floor).
"At the same time it's obviously, frustrating as well because I knew the routines I was doing in training were good enough to be there among the top guys in the world. My all-around difficulty that I did in the first round trial was the same as (all-around gold medallist, Kohei) Uchimura so it's frustrating to know that I would have been there or thereabouts.
"I think it just wasn't meant to be this time. Even if I had qualified to go all-around, my body was in an awful position (to compete), it would have been a struggle for me anyway. Now I'm just working towards next year. The routines I've got are difficult enough; I just need to make them really consistent."
It is not so much a case of back to the drawing board for the Olympic bronze medallist, he is happy with his routines, as he points out. The issue is one of motivation and finding the strength to go again after injury meant the reward for the efforts of the previous months did not materialise.
"It was quite hard, initially, straight afterwards," he admits. "Like I said, I'd really put everything into the all-around, I'd not even contemplated not doing the all-around. So to know I've got to go back and start all over again and I'm not really going to have the chance to do the all around again until the next Europeans which are in about six months' time...
"It is difficult to re-motivate yourself but I took a lot of pride from the fact I was there (at the World Championships), doing those difficult routines and everyone was expecting me to do well, but then other factors that came into play with my injuries and stuff. I didn't have much luck leading into that comp so I know that I am there. I just need to keep injury free next time and hopefully, when it comes I'll be going as an all-arounder."
With a number of competitions still to come this year, Oldham gets back to his session. The facilities at Loughborough are state of the art and Oldham acknowledges that he couldn't ask for more. Especially as working one on one with his coach, Sergei Sizhanov, he has the gym to himself. That does mean he gets worked extremely hard, in particular when there isn't a competition in the offing.
"When I've got competitions coming up and I'm only a few weeks out of competitions, my general training is just my routines," explains Oldham. "So I just have to warm up, do my routines and then if they're good enough I move on to the next apparatus. Whereas if I've not got competitions coming up, I've got to work on all the individual elements out of my routines so it takes a lot longer.
"I can spend up to an hour and a half just on one apparatus sometimes. So my training sessions can last four, four and a half hours sometimes, just in one session. Then I come back in and train again. Also I do a lot more strength and conditioning when I'm not leading up to a competition because obviously I don't want to be over fatigued from doing conditioning for routines. So that's why a lot of the time when I'm outside of competition the training's a lot harder and lasts longer."
One way to keep himself going is revealed shortly afterwards as a member of staff at the gym walks in and exclaims his surprise at the near-silence in the vast room - "it's never this quiet in here, there's usually music blaring out!"
Sure enough, a few minutes later Oldham exits into a store room and seconds later the room is filled with music.
"A lot of the time, I'm one on one with my coach," Oldham responds when quizzed on his music. "Sometimes it does get hard to motivate yourself, it's day in, day out so yeah, I definitely rely on my loud music to keep me going and keep me plugging through the sessions to get to the end."
Session over, it's time for lunch and being able to relax away from the gym, Oldham tells me, is very important.
"It can be difficult but for me, I've learnt from other gymnasts as well, you've got to be able to switch off," he says. "If you don't that's when things start going wrong. You just start over thinking things, your gymnastics suffers because of that."
"As soon as I get out of the gym I just switch off. My parents don't even ask me how training was anymore because as soon as I'm out of the gym I'm thinking about other things. I just want to relax and disengage from the gym. I do loads of stuff to take my mind off it; I'm always with my mates, going to the cinema, eating out. I like to play golf when I can but I don't get that much opportunity and obviously I'm a massive football fan so if ever there's a (Manchester) United game on we go to a sports bar to watch it."
Other than a, perhaps understandable, reticence to discuss Manchester United and their troubles this season, Oldham talks freely about various aspects of the life of an elite level gymnast both in and out of the gym. His frustration at the way he was prevented from showing his best at the World Championships is clear but it is also evident that he is determined to make up for it in the coming months and years.
Glory as an individual all-around gymnast is the goal and Sam Oldham shows both the talent and commitment that will be needed for him to reach it.