Ready to race
Swimmer Siobhan-Marie O'Connor talks to Sky Sports about a positive year ahead of the European Short Course Championship in Denmark...
Last Updated: 19/12/13 10:08am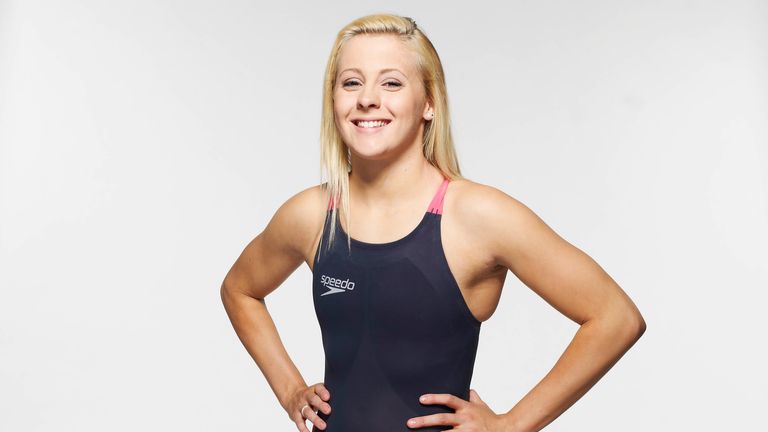 The Sky Academy Sports Scholar already has the experience of swimming in an Olympic relay final, in 2012, but subsequent setbacks due to illness have meant that O'Connor has had to dig deep to continue her progression in the past 18 months.
After reaching 11 finals in three World Cup events in Asia recently though, the Bath-born swimmer feels she is moving in the right direction and took plenty of encouragement from her whirlwind trip around Asia - and not only because of the results.
"It wasn't just the results as much as the actual process that I got confidence from," she explained. "It was a really tough schedule over just under two weeks and travelling to three different countries on massive long haul flights. It's really tough to step up and race loads.
"My coach said he wasn't really too bothered about the results at the end of it. He didn't say he wanted me to go there and win loads of money or medals, make loads of finals, he just wanted me to race hard and make myself tired and try and push myself as hard as I could. I was able to push myself really hard and still swim really well.
"I didn't get more tired throughout the competitions with my swims getting worse, they actually got better so I took a lot of confidence from that because it's always good to know that you can keep fit and well for a long period of time with the stress that comes with it."
For O'Connor and the rest of the GB swimmers the meets were a chance to test themselves against some of the best in the world, something they believe was not happening enough in recent years and that needed to be put right. O'Connor, for one, is pleased to have gained further experience at the highest level.
"This season I've started to change a few things and I think the World Cups were really good for me," she added. "A good series of races where I've managed to test out a few things and I realised that I could race back to back and travel to from country to country, that I was strong enough and fit enough to race some of the best girls in the world.
"That's what I really wanted to put right this year. Last year we realised, not just me and my coach but as a team, that Britain weren't getting enough racing in internationally. So this year with what I've got coming up and what I've just done I think that that's a really positive thing and we're going to be doing a lot more of that. Hopefully going into next year we'll have a lot more experience on that sort of stage."
Next up for the teenager is another international event, the European Short Course Championship in Denmark. It is a meet that holds good memories for O'Connor after she won her first senior international medal at the 2012 competition in France, taking bronze in the 100IM.
What's more, she believes that she is better prepared for the Championship than she has been in previous years.
"Short course is always good fun really," O'Connor remarked. "I've done the European Short Course for the last two years and it's always good.
"People play to their strengths so people who are good underwater tend to do really well, you have to work your starts and turns a lot more because there are more of them. This should be a good meet, there's quite a few of my team-mates from Bath going along with me and it's quite a small team.
"I'm excited to go to Denmark because I've never been before and I'll be racing some of the girls who I raced at the World Cup, so I've got confidence going in. I've done quite a bit of short course racing this year whereas the past couple of years when I've done it, I've kind of gone in there and that was my first proper short course meet. I just want to carry through what I've done really."
Commonwealth Games
A good meet in Denmark would give O'Connor the perfect platform going into 2014 where, like so many athletes, the Commonwealth Games is the primary focus. The medley swimmer acknowledges that it will be quite strange when Britain splits into the individual nations for Glasgow but if and when she gets there, concentration will be firmly on performing in the pool, no matter who she may be up against.
"This year my main aim is the Commonwealths in the summer," she continued. "I'll hopefully make my first Commonwealth team, that's what we're all looking to do but before that we've other competitions like the Flanders meet and a couple of internationals just to get ready.
"Then we have the trials. So we'll be pretty busy but when we get to Commonwealths I don't really know what to expect there but, if possible, we've got to be looking at medals really."
O'Connor's preferred event is the 200IM but the nature of the medley means that she is more than adept at all strokes and it was actually the 100m breaststroke that she competed in at the Olympics in London. It means the Sports Scholar will have a number of opportunities to make the England team and potentially be able to compete at more than one event at the Games themselves.
"One of the perks of being a medley swimmer is that you get to train all strokes so I can race all the strokes as well," O'Connor said.
"I'm not just focusing on one discipline which is nice, so when I go to competitions I can enter a variety. I prefer events 200m and below but then the 200m freestyle is so different to the 200IM and you pace each event completely differently.
"On the medley because it's all different strokes, you have to play to your strengths a bit. That's probably the most tactical race, whereas the freestyle is one where it's just holding your pace. It is hard but it is just about race practice, the more you do each event, the more you get used to how to swim it and the more that you race the girls who are best at it, the more you learn about how to swim, about how it's best swum."
O'Connor also expressed her delight at being part of the Sky Academy Sports Scholarships programme, explaining that without it her morale-boosting trip to Asia most likely would not have happened.
"It's been amazing so far because without the Scholarships I wouldn't have been able to go to the World Cups and the experience I had over there has helped me so much with my training and my confidence especially," she concluded.
"Last year finished on a bittersweet ending really, I made the final (at the World Championships) but it didn't really go as well as I wanted it to so I lost a bit of confidence. But going to the World Cups has put me in a really good place and feel confident in what I'm doing again this year and I'm happy with how I'm swimming.
"I've got the feeling back for the racing again, I was able to race some of the best girls in the world and you can't really do that, you have to go abroad and it was expensive but I was able to do it with the help of Sky - so it's great!"