More to come
We spoke to swimmer Siobhan-Marie O'Connor as she aims to carry her good short-course form into long-course starting at the Flanders Cup this weekend...
Last Updated: 24/01/14 2:48pm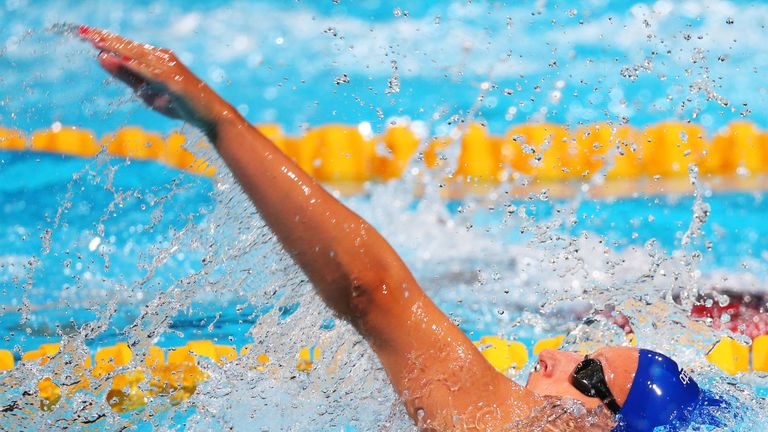 Amongst them will be a large British contingent, as a squad of 80 athletes make the trip in search of medals to begin a year in which Glasgow's Commonwealth Games are the highlight.
Sky Academy Sports Scholar Siobhan-Marie O'Connor is part of the GB team and will be looking to continue the form that saw her end 2013 with two medals and a British record at the European Short-Course Championships in Denmark.
Having won the 100m individual medley bronze medal 12 months previously, O'Connor was able to match that in a British record time as well as pick up the silver in her favoured 200m IM.
"It was a great meet and it ended my year really well," she said. "It was a really good meet for me last year but because they had the World Championships Short-Course as well, a couple of weeks after, most people targeted that.
"So the European Short-Course wasn't as strong. But this year there was no World Short-Course, it was just Europeans so every country sent their strongest team.
Marker
"I knew it was going to be harder but my aim was always to medal in the 200IM because I wanted to try and set that marker down and use what I'd done in the World Cups, put that to good use."
The 18-year-old from Bath has, to date, excelled more in the long-course events and so her performances in the shorter format have given her an added boost going into the second half of the season.
"I was really happy with how I did in Denmark," O'Connor said. "It was good because it was against all the people you normally race against at long-course and I'm usually better at long-course than I am at short-course.
"Previously I've always been better in the second half of the year so the fact that I've done well in the first half of the season this year gives me a lot of confidence going forward."
The Flanders Cup represents O'Connor's first opportunity to test herself in a full size pool having spent the majority of January in Spain, training at altitude, and with the Commonwealth Games trials just a couple of months away any chance to build up race sharpness is crucial.
"I've never done the Flanders Cup so I'm really excited to do it; it's a meet that Britain sends a good team to every year," she commented.
"This year we've got 80 British swimmers or something like that, so it's a massive team. It's the first proper long-course meet of the year so I'm looking forward to seeing where I am and seeing how much I need to work on.
"We've done a lot of short-course this year, we've raced a lot this season but it's always different long-course. I'm looking forward to going over, we've just been at altitude for three weeks and they always say that if you race within two to five days of coming down you should feel pretty good so hopefully it should be a good meet. It'll be good to test myself.
"It's always different to the major meets because you're in hard training and you don't feel rested, you can't expect to swim really well. It's one of those things where you don't feel good until you've rested."
That tough training saw O'Connor and her team-mates having just two days off over Christmas in a bid to ensure that fitness levels remain high ahead of a big year of competition.
"You can't have a lot of time off, especially because we have lots of big competitions coming up and it's not really very long until the trials," explained the medley swimmer.
"We really can't afford to lose that much fitness and with swimming you can lose a lot of fitness in just three days out of the water."
A gruelling training schedule it may be but it will all be worth it if it leads to Commonwealth Games success, towards which the next step is the Flanders Cup this weekend.