MLB: Ellsbury stars for Sox
Jacoby Ellsbury scored the winning single as the Boston Red Sox edged out the New York Yankees.
Last Updated: 12/09/12 9:33am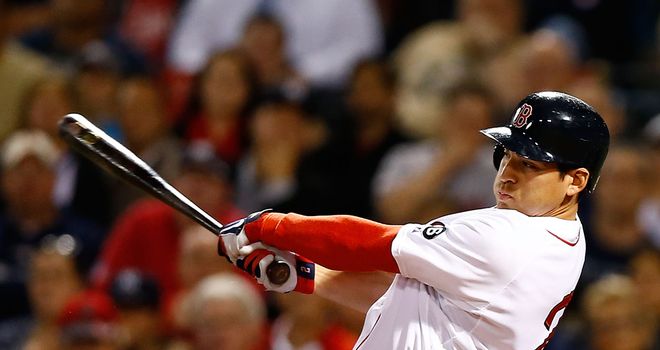 Jacoby Ellsbury scored the winning single as the Boston Red Sox edged past fierce rivals the New York Yankees 4-3 in the American League East.
Ellsbury struck in the ninth inning while Pedro Ciriaco started the rally with a single of his own to give the Red Sox just their second victory in 13 matches.
The defeat dropped the Yankees into a tie for first place alongside the Baltimore Orioles - who defeated the Tampa Bay Rays 9-2 - with both teams currently owning a win-loss record of 79-62.
JJ Hardy was in supreme form as Baltimore dismissed the Rays, the 30-year-old homering twice, doubling and driving in five runs in a great all-round display.
Hardy was well supported by Matt Wieters' three hits two RBIs while Chris Davis' also homered.
The Detroit Tigers reduced the Chicago White Sox's lead in the Central League to just two games after a 5-3 victory, while Matt Harrison worked into the sixth inning for his 16th victory as the Texas Rangers claimed a 6-4 win over the Cleveland Indians.
Kyle Seager homered and Erasmo Ramirez pitched seven innings for his first major league win to help the Seattle Mariners to a 4-3 victory over the Toronto Blue Jays.
Will Smith pitched seven shutout innings to lead the Kansas City Royals to a 9-1 hammering of the Minnesota Twins, while the Oakland Athletics held off the challenge of the Los Angeles Angels for a 6-5 success.
Six of the best
The Philadelphia Phillies extended their winning streak to six matches in the National League after a 9-7 victory over the Miami Marlins.
Jimmy Rollins homered and drove in three runs to inspire the Phillies, improving to 4-0 in his last five starts.
The Arizona Diamondbacks used an unearned run to edge past the Los Angeles Dodgers 1-0, with Ian Kennedy's pitching up until the eighth inning crucial to their success.
Madison Bumgarner struck a three-run homer despite struggling early on and Brandon Belt drove in four runs for the San Francisco Giants, who saw off the Colorado Rockies 9-8.
Rickie Weeks and Aramis Ramirez homered as the Milwaukee Brewers continued their recent good form with a 5-0 triumph over the Atlanta Braves and Bryce Harper had his first four-hit game to help the Washington Nationals to a 5-3 success over the New York Mets.
The Cincinnati Reds beat the Pittsburgh Pirates 5-3, the Houston Astros were 1-0 winners over the Chicago Cubs and the St Louis Cardinals suffered a 6-4 defeat against the San Diego Padres.