Swimming: Adlington delays decision
Rebecca Adlington will make a decision on her future after consulting coach Bill Furniss following an upcoming charity bike ride in Zambia.
Last Updated: 02/10/12 6:29pm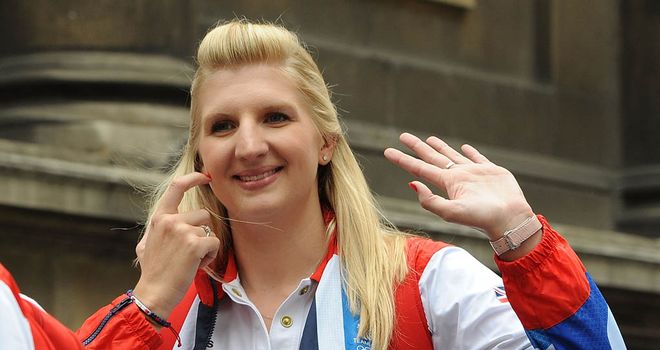 Rebecca Adlington will make a decision on her future after consulting coach Bill Furniss following an upcoming charity bike ride in Zambia.
The 23-year-old was third in both the 400 metres and 800m freestyle at the 2012 Olympics, adding double bronze to the two golds she won in Beijing four years ago.
While the Rio Olympics looks a step too far, the Nova Centurion swimmer is as yet undecided about her immediate future, with competing in the 200m and 400m a possibility.
Once she has returned from the 280-mile Bike for Africa Challenge - supported by British Gas and UK Sport - she is undertaking with former Olympic bronze medallist Joanne Jackson, ex-Commonwealth champion Ross Davenport and ex-swimmer Mel Marshall, Adlington will sit down with Furniss and decide on her next step.
Adlington said: "I haven't made that decision. In so many ways I think I can, but I need Bill's input in that because I need to know what he thinks.
"At the end of the day, you don't know yourself as fully as your coach does. Bill can see things in training, he knows the work I need to do to be good at a 200 and 400.
"Over the past goodness knows how long it has all been based on the 800 so if we were going to change things he would know whether I would be able to do that sort of stuff and at good quality.
"So I need his opinion on that more than anything, because while I might think 'yeah I could do that' he might be like 'no, I have seen 200 free people, you haven't quite got that.'
Honest
"And he is honest enough to say that or he might turn round and say, 'right, I think I can tap into your speed.' But that is something I don't know, I have got to get his point of view.
"I can't make this decision on my own, at the end of the day I don't want to train with anybody but Bill.
"It's not like I want to move clubs and try somewhere different. Bill is the only person I want to coach me if I do carry on so I can't make that decision without him."
One factor that may come into play is that Furniss has been linked with the British head coach job following Dennis Pursley's return to the United States, with an appointment set to be made following the review into the team's performance in London.
Should she decide to continue, Adlington could aim for the four and eight-length races at next year's World Championships in Barcelona and the Commonwealth Games in Glasgow in 2014, but she admits London was probably her final 800m freestyle.
The competitive nature that has driven the Mansfield-born swimmer to titles at Olympic, world, European and Commonwealth level means she would not want to go to Rio if she were not a contender.
"I might be a bit past it," she added. "You've got to be realistic. If I want to go to Rio I want to be there on the podium, I want to be my very best, not just scraping just to make it and then not making a semi or a final.
"I am looking forward to the next few years and what that might bring. I am looking forward to Rio in general, but I just don't necessarily think I shall be there as an athlete."