MLB: Wild card winners
Away teams St Louis and Baltimore upset Atlanta and Texas respectively to progress to the MLB play-off series with wild card wins.
Last Updated: 06/10/12 11:40am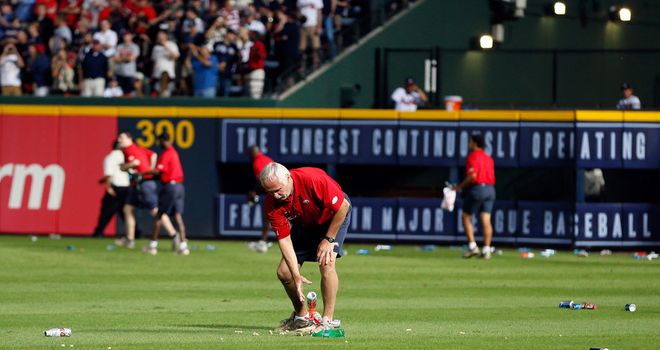 The St Louis Cardinals marched through to another post-season series and sent the Atlanta Braves into the close season on a night enlivened by a moment of controversy at Turner Field.
St Louis were 6-3 winners in the National League wild-card game as they kept up their defence of the World Series, and the Washington Nationals await them in a best-of-five tussle next, beginning on Sunday.
The Braves reacted with dismay in the eighth inning when, already trailing 6-3, they looked to have the bases loaded with one out after a fielding error.
Yet a crucial call went against them, umpire Sam Holbrook citing the infield fly rule as he called Andrelton Simmons out, and chaos broke out as enraged home fans hurled various missiles from the stands. Atlanta were left with men on second and third bases but two out.
Play was stopped for 19 minutes before a degree of calm could be restored, and St Louis soon swerved the immediate danger and saw out their win.
Matt Holliday had earlier homered and Allen Craig had an RBI double for St Louis, while David Ross hit a home run for Atlanta.
Atlanta had launched a protest over Holbrook's ruling, but it was rejected swiftly after the game ended by Joe Torre, Major League Baseball's executive vice-president of baseball operations.Baltimore's surprise season will continue as they defeated double defending American league champions Texas Rangers in their own back yard.
The Rangers had held a four-game lead in the division with six games left to play but blew up and their season is now over after a 5-1 home defeat in the wild card game.
"Me and my team mates and the Rangers fans, I don't think we all thought that it would end this early," said Rangers pitcher Yu Darvish. "I don't even know what I'm supposed to do tomorrow."
After winning just four of their last 13, it was hardly a surprise to see the Rangers struggle in another important game, even against such infrequent play-off contenders as the O's, who had last enjoyed a post-season win in 1997.
AL East champions the New York Yankees await Baltimore in their best-of-five series, starting on Sunday.