MLB: St Louis Cardinals level the NLDS with Washington Nationals
St Louis levelled their NLDS with Washington, while Baltimore beat NY Yankees to square up their ALDS.
Last Updated: 10/10/12 8:03am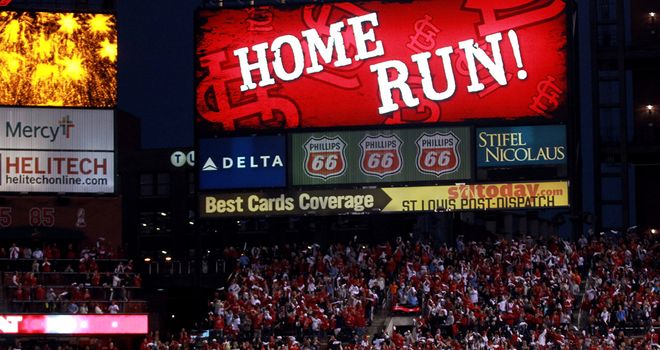 Jaime Garcia, the Cardinals starter, could only manage two innings before surrendering to a shoulder problem. However, a four-run second for the Cardinals and consistent scoring subsequently meant that was never an issue.
Daniel Descalso and Allen Craig also homered for the Cardinals.
Meanwhile, Baltimore Orioles' rookie pitcher Chen Wei-yin won his personal duel with Andy Pettitte as the Orioles beat the New York Yankees 3-2.
The victory levelled their American League Division Series at 1-1.
On a cold night in front of more than 48,000 boisterous fans at Camden Yards, 27-year-old Chen gave up eight hits over 6 1/3 innings while surrendering two runs, only one of them earned.
It was Chen's excellent changes of pace which had the Yankees off balance all night.
Joe Girardi, the New York boss, said: "His fastball, it seems to get on hitters quicker than what the speed indicates, and that's one of his strengths.
"He threw some good off-speed pitches when he was behind in the count, as well."
Relievers Brian Matusz and Darren O'Day protected the lead for Chen before closer Jim Johnson came in for the ninth inning to end the Yankees hopes.
Taiwanese Chen added: "Today I just kept the ball down and lowered my pitch count. The only thing I wanted was just keep pitching, keep pitching. I don't want to think too much."
In the third inning, Chris Davis provided a two-run single with a run-scoring base-hit by Mark Reynolds in the sixth also providing the offense for the Orioles. They were 29-9 in one-run games during the regular season- a Major League record.
Pettitte, holder of the Major League Baseball record for postseason wins with 19, gave up seven hits and three runs over seven innings and took the loss.