Great Britain's short-track speed-skating squad have Winter Olympics medals on their mind
Great Britain's short-track speed-skating squad purely have medals on their mind.
Last Updated: 16/10/12 5:22pm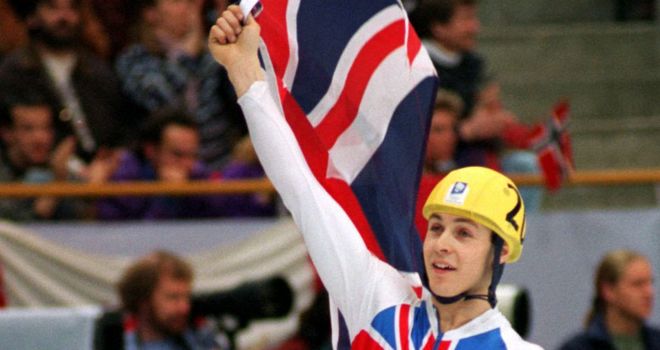 Led by two-time Olympian and former World Cup winner Jon Eley, the Great Britain squad has developed into one of the strongest in the sport; promising for the build-up to the Sochi Winter Games in 2014.
It was in Lillehammer in 1994 when Nicky Gooch was the last Great Britain speed-skater to claim an Olympic medal when he took 500m bronze. Now, head coach of the Nottingham-based team, Gooch believes a different mentality is proving vital to more sustained success.
Gooch said: "The focus is no longer about simply qualifying for a World Cup or an Olympics; it's about going there and winning medals. We're in a very different place.
"In our sport you can be fastest and still not win. You have to be fit enough, strong enough and fast enough, but you've also got to get your tactics right and have a little bit of luck.
"Therefore it is all about consistency: the more times you're up there, the more chance it's going to pay off for you. We now have a squad of athletes who are capable of featuring in medal contention."
Eley, the 28-year-old, has always looked best-placed to fill the medal-winning skates of Gooch, having reached the final of his favoured 500m in Turin in 2006 and narrowly missed out on repeating the feat four years later.
However, Eley is now accompanied by a strong squad of team-mates including Richard Shoebridge, Jack Whelbourne and Paul Stanley, all of whom played a part in the GB squad setting a new 5000m relay world record towards the tail-end of the 2010/11 season.
Experiences
As well as this, the British squad have made a flying start to the new season, almost sweeping the board at an International Invitational Cup in Heerenveen, Holland last month, where they won 11 out of a possible 12 medals.
Eley, who is back to full fitness after missing the end of last season with a toe injury, feels his experiences of Turin and Vancouver will stand him in good stead for a third shot at an Olympic medal in Sochi.
Eley added: "In the four years between Turin and Vancouver I settled for natural progression and the difference now is that I've learned from that and I know there are a few extra things I need to push on with.
"I need to almost get out of my comfort zone and take a few risks in these four years to get from that consistent top eight placing into the medal zone. I need to use my experience and my ability to get to the final every time, and give me the chance to earn the luck.
"Sochi is going to be my best chance of coming home with a medal and there is more than one chance. We are such a strong team now that we can put more emphasis on the relay, where we have proved we can compete against the very best teams in the world."
As with Eley, team-mate Elise Christie is a former Olympian and European champion who plans to boost the women's side of the sport by moving up to consistently win medals through the World Cup season.
The 22-year-old Scot has followed Eley's lead and secured the belief that rather than travelling to Olympics and World Cups just to make up the numbers, she is capable of becoming GB's first female short-track medallist.
Christie said: "I always aimed to go to an Olympics and once I'd got to Vancouver I didn't really know what else to do.
"I came back and changed my attitude and approached skating differently. Instead of coming in and doing my job, I changed my lifestyle. I make sure I eat what I'm told and I don't go out during the week.
"I wouldn't say I ever had a bad attitude but it was always something of a routine for me. Now with the help of our back-up staff I can see the sport much more differently. I live like an athlete, and that is the difference when it comes to being a world-class competitor."