Ashley Jackson admits his post-Olympics comedown took him to "dark places"
Ashley Jackson admits his post-Olympics comedown took him to "dark places" - and his frustration is still lingering.
Last Updated: 19/10/12 4:20pm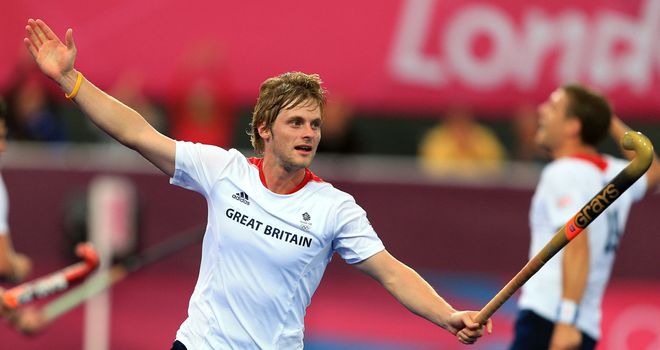 None have felt it more than Great Britain hockey midfielder Ashley Jackson, who admits his post-Olympics comedown took him to some "dark places" - and his frustration is still lingering.
The 25-year-old has found it difficult to accept the disappointment of finishing fourth - GB's highest placing since they won gold back in 1988.
To add to his woe, even a return to playing with East Grinstead could not provide any comfort as an ankle injury after only two matches has sidelined him for nearly a month.
It is now a race against time for him to be fit for his club's hosting of the Euro Hockey League, the sport's equivalent of football's Champions League, next week.
Jackson, whose six goals made him joint second-highest scorer at the London Olympics, said: "It has not been the easiest time.
"The first two weeks after the tournament were actually probably the best because you could finally relax and get away from it all.
"But then you start to reflect on what happened, what we had been through as a group and a person, and it was pretty dark over that period time.
"There is a massive comedown because even from when the London Olympics were announced in 2005 it was pretty much what everyone was looking to."
Difficult
"Even when we lost in the semi-finals of the 2012 World Cup something in the back of your mind told you 2012 was just around the corner so it's not the end of the world.
"Maybe it was the end of the world. When London didn't go the way we dreamt it would it was pretty difficult to deal with.
"You analysed what happened, thought what could have been, and saw people on the television who had achieved what they wanted to achieve - it was tough.
"I didn't watch any of the Paralympics, I didn't listen to the radio, I just stayed out of everything where I could have come across it.
"It was tough everywhere I went: even when I went down to the golf club there was always someone who wanted to talk about it.
"I am sure sometimes I came across quite rude to certain people but it was not through trying to be that way, it was just a difficult moment."
Jackson, unlike a number of his international team-mates, turned down the chance to play for a continental club this season.
He added: "I came back to East Grinstead pretty quickly after the Games because we have a really young team with a lot of local club guys and I wanted to give them some help and direction.
"That was the motivating factor to get back playing again. For the club guys the Euro Hockey League is potentially their Olympics so you want to make it as special as you can.
"The first round is notoriously not a very an enjoyable weekend if you have to go away and end up in a terrible venue but as it is at home it is brilliant."