NBA commissioner David Stern sets date of retirement and names Adam Silver as successor
NBA commissioner David Stern has announced that he will step down from his role at the start of February 2014.
Last Updated: 27/10/12 3:30pm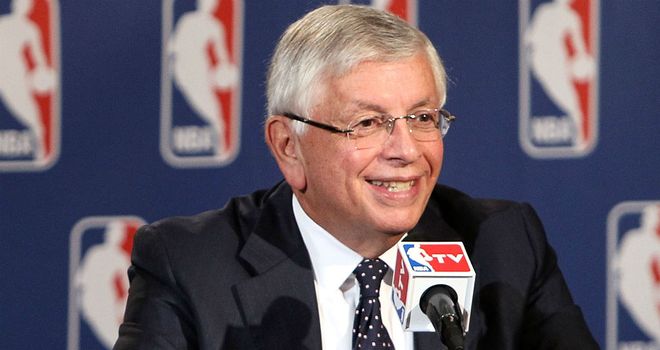 Stern has made the announcement so early in order to ensure that there will be a smooth transition for his successor, who will be his current deputy commissioner Adam Silver.
Stern recommended Silver to the NAB board, who did not take long to accept Silver as the new commissioner-elect until Stern finally calls it a day in February 2014.
"Adam is a world-class business executive who has influenced so many areas of our business during his tenure with the NBA," Stern said. "I am pleased that the Board has chosen him as my successor and I know the NBA will be in very good hands.
"I knew probably six months ago that I was going to lay this out for the Board. So for me the course of the next 16 months, or 15 months, is really to make sure that collective bargaining agreement is working the way we want it to be working, to make sure that the revenue sharing agreement is doing all the things it seems to be doing in a proper way, to be sure that our international is doing as well as it has been doing.
"I just got back from the China Germany Milan trip, I'm looking forward to taking a similar type trip before the season next year, and to make sure we continue our leadership in digital and social medial."
Seven new teams have been included in the NBA under Stern's tenure, with the addition of a women's NBA and developmental league along with expanded TV interest both in the States and worldwide.
Silver joined the NBA in 1992 and has been at the heart of many of their expansions into social media, digital output and merchandising, and he spoke of his pride at being handed the top job.
"I'm honoured, thrilled and will do my absolute best to grow this league, and this industry, only try to do it the same way David has done over the past 20 years," said Silver.
"There will be plenty of time during the transition to laud at David for all the things you've been done for the NBA, and for sports generally you'll be remembered as the best of all time as commissioners go.
"You've set the standard not only for sports league commissioners but for CEOs in any industry. It's been honor to work for you for the past year 20 years."