British swimmer David Davies announces his retirement following London 2012
British swimmer David Davies has called time on his swimming career
Last Updated: 13/11/12 8:33am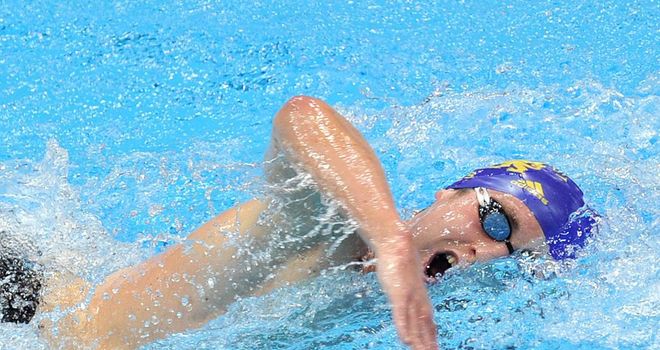 In Athens in 2004, Davies won a 1500m freestyle bronze medal which he then added to with an open water silver in Beijing four years later.
The 27-year-old made his international debut swimming for Wales at the Commonwealth Games in Manchester in 2002. He then followed this up a year later with a fourth place in his first World Championships.
When he claimed his first Olympic medal in Athens, bronze in the 1500m freestyle, he was only 19.
During his 10-year spell on the international scene, the three-time Olympian has won medals in the 1500m freestyle at every level of international competition.
However it was in 2008 that Davies broke into open water swimming and in his first World Championships he won silver and qualified for the inaugural marathon swimming event at the Beijing Olympics.
In Beijing, the British record holder won his second Olympic medal, silver in the 10km race, earning his place in the Swim Wales Hall of Fame.
Now though, Davies is excited to be taking up a position with Sport Wales to help inspire the next generation of Olympians.
Sporting ambitions
He said: "I have had an amazing career. I have achieved so much more than I ever thought possible when I was a youngster.
"I have had terrific support from my family and my coach of many years, Dave Haller in Cardiff, who coached me to my first Olympic medal in Athens.
"I would also like to thank everyone at British Swimming who has helped me along the way."
He added: "I had three great years at Loughborough under the guidance of Kevin Renshaw, who coached me to a silver medal in Beijing. I have made some fantastic friends along the way.
"I am going on to work as a Performance Lifestyle Advisor/Athlete Mentor for Sport Wales so I hope to stay involved with young swimmers and hopefully help them to achieve their sporting ambitions as I have."
Michael Scott, National Performance Director, said: "David has had an outstanding swimming career with two Olympic medals and a host of other international distance freestyle medals from World, Commonwealth and European championships.
"He has had made a significant contribution to swimming in Britain in his 10-year career and is a fantastic ambassador for the sport."