Christof Innerhofer wins World Cup downhill at Beaver Creek
Christof Innerhofer confirmed his return to form after injuries with victory at the World Cup downhill in Beaver Creek.
Last Updated: 30/11/12 10:59pm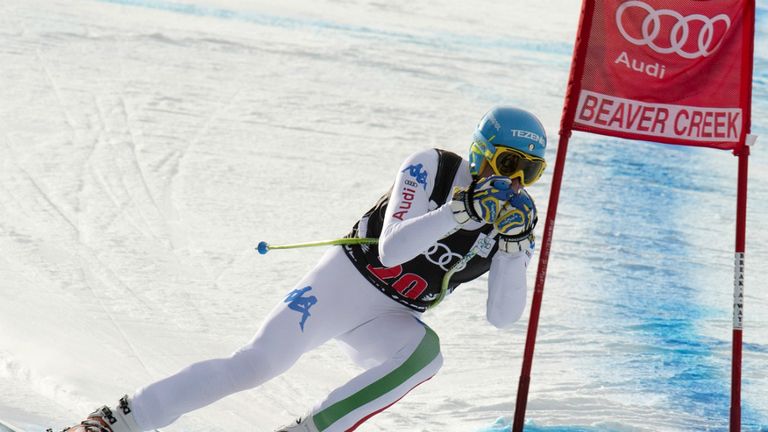 Since winning three medals - including Super-G gold - at the 2011 world championships, the Italian has been hampered by health problems including concussion and back pains from a training injury and a car crash.
But he looked back to his best while carving his way down the Birds of Prey piste in one minute and 41.69 seconds to win the second World Cup downhill in his career.
Innerhofer, whose other downhill success came in Bormio in 2009, beat pre-race favourite Aksel Lund Svindal by 0.23 seconds, while Svindal's fellow Norwegian Kjetil Janrsrud was third, 0.50 seconds behind.
"This podium is very important for me because some time ago I wasn't even sure I would be able to keep skiing. Today, I beat Svindal, I couldn't be happier. It's more than a race today, it's a recovery," said Innerhofer.
"It's been such a long time since my first downhill victory in Bormio that I don't really know what to say, especially after what I've been through.
"I really didn't know what to expect. I went through hell for the past 10 months and it doesn't seem real. After each skier I kept looking at the scoreboard to make sure I was still up there."
Svindal, who achieved a rare double by winning both the downhill and the Super-G in Lake Louise a week ago, failed to make it three in a row but took his lead in the overall World Cup standings to 110 points over giant slalom world champion Ted Ligety.
The Beaver Creek programme continues on Saturday with a Super-G at the same venue.
Vonn dominant
Meanwhile, American Lindsey Vonn extended her dominance at Lake Louise, winning the first of two women's World Cup downhills at the Canadian resort.
In a race disrupted by fog, Vonn clocked one minute 52.61 seconds to win her 27th World Cup downhill and her 12th at this venue in the Canadian Rockies.
American Stacey Cook was a distant second, 1.73 seconds back with Germany's Maria Hoefl-Riesch and Liechtenstein's Tina Weirather sharing third, 1.74 seconds behind Vonn.