Matteo Marsaglia tastes World Cup victory for first time on Birds of Prey course
Matteo Marsaglia claimed his maiden World Cup victory in the Super-G at Beaver Creek and warned more was to come.
Last Updated: 01/12/12 10:29pm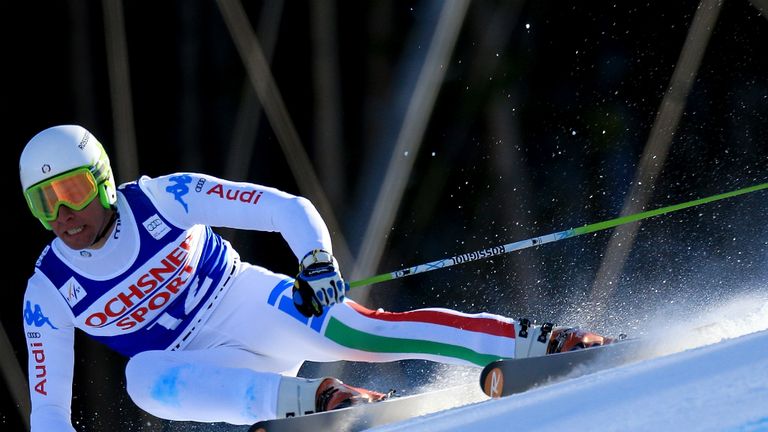 The Italian, 27, who had never previously made it onto the podium, clocked one minute and 14.68 seconds to emulate compatriot Christof Innerhofer, winner of the previous day's downhill on the same Birds of Prey course.
"Yesterday, Innerhofer won - same team, same skis and same skiman. I think it's only the beginning of a great season," said Marsaglia, whose previous best result was fourth in a Super-G at the Schladming World Cup finals in March.
"It's just mad. It's my first victory. I narrowly missed out in Schladming when I finished fourth but I knew my skiing was good. I kept working on my strengths this summer and the confidence was there."
Marsaglia beat pre-race favourite and current World Cup leader Aksel Lund Svindal, who had to be content with second place for the second day running, 0.27 seconds behind. Austria's Hannes Reichelt finished third, 0.70 seconds off the pace.
Svindal, who won both races in Lake Louise last weekend, broke clear in the race for the big globe, leading American giant slalom world champion Ted Ligety by 140 points.
"Two wins in Lake Louise, two second places here, I think it's pretty good," the Norwegian said. "I was again pretty lucky today. I again needed to work hard not to go out. Once again, I was going too fast."
Ligety confirmed his progression in speed events by missing the podium by 0.04 seconds, finishing fourth as he did in the first Super-G of the season.
Crash
The race was marred by several crashes, the most serious involving Max Franz, runner-up in the Lake Louise downhill a week earlier. The Austrian collided with a gate at the end of jump and went down, briefly losing consciousness.
He was taken to hospital in Vail for checks with bruises to his face but his legs and arms were unhurt, Austrian team spokesman Markus Aichner said.
"Max is with us again, he's conscious. He jumped into a gate and probably lost consciousness straightaway. It's too early to say anything about his injuries," Austrian coach Mathias Berthold said.
World Cup holder Marcel Hischer, who will be the leading favourite with Ligety in Sunday's giant slalom, stayed in the coaches' room after the crash in shock.
Still number Vonn
Meanwhile, American Lindsey Vonn won her second World Cup downhill in as many days at Lake Louise on Saturday to continue her dominance at the Canadian Rockies resort.
Vonn, a four-time overall World Cup champion, notched her 28th career victory and her 13th at Lake Louise, where she swept three races last season. Her winning time was one minute 52.90 seconds.
For the second straight day American Stacey Cook finished second, 0.52 seconds behind, and Switzerland's Marianne Kaufmann-Abderhalden third, 0.62 seconds adrift of Vonn.