Ellen Gandy announces she will switch allegiance and compete for Australia
Ellen Gandy has announced that she will switch allegiance and compete for Australia.
Last Updated: 04/12/12 12:48pm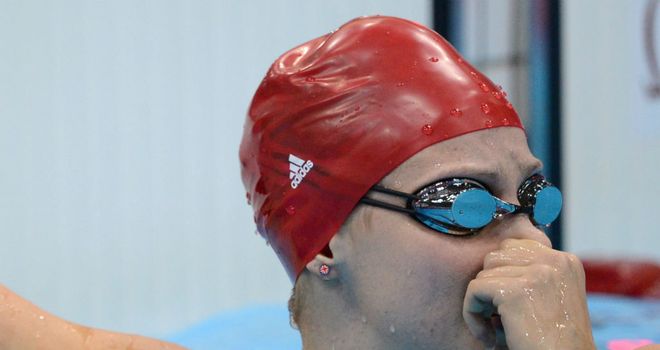 When she was 16, the Bromley-born swimmer moved to Australia with her family due to her father's job at Melbourne airport yet had continued to represent Great Britain, winning medals at European, world and Commonwealth level.
At this summer's London Olympics, Gandy had been expected to challenge for a place on the podium however her Games were not one to remember as she couldn't even make the semi-finals, crashing out 17th after the heats.
On her Twitter account, Gandy describes herself as a "Dual Olympian British swimmer who moved to Melbourne 4 years ago, but still a Londoner at heart!!"
The swimmer has now revealed her choice to compete for Australia though. She told The Australian: "It started with the Olympics. I was really disappointed with my performance.
"I stumbled at the last hurdle, which was devastating because I had high hopes. I really thought my swimming career could be over after that.
"I sat down with (coach) Rohan (Taylor) and he suggested that I look at establishing a more balanced lifestyle, go back to uni and, as part of that discussion, he raised the idea of competing for Australia.
"I had thought about it before but not seriously, but when I looked into it, it became something that I was really excited about."
Supportive
"The last five years (living in Australia but competing for Britain) have been really, really difficult, especially the travelling.
"A lot of the time I felt like I was in limbo because I didn't feel Australian but I didn't really feel British either because I wasn't there all the time.
"It's not that I don't like Britain any more, but Australia has always been so supportive of me as a foreign athlete. They have never treated me as an outsider."
The swimmer has now applied for Australian citizenship and will have to sit out the next 12 months of international competition, including missing next year's World Championships in Barcelona, in order to fulfil criteria for changing allegiance.
Her next major international competition could be the Glasgow Commonwealth Games, which will see her return to British shores in 2014.