Hannah Miley expects to face a different Ye Shiwen in final
Hannah Miley expects to take on a different Ye Shiwen when the pair compete in the final of the 400 metres IM.
Last Updated: 12/12/12 1:12pm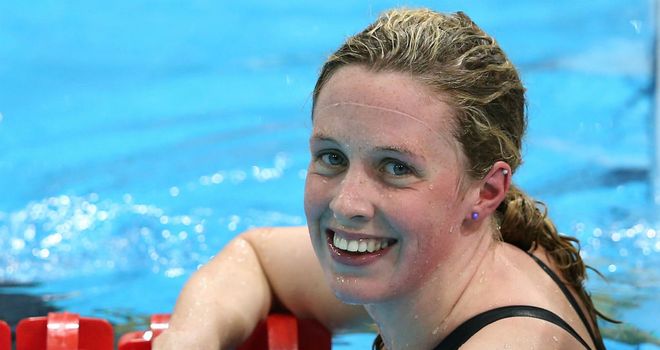 At the 2012 Olympics, Ye was at the centre of the biggest controversy in the pool, with her freestyle leg en route to victory in the eight-length event other-worldly.
In London this summer, the Chinese teenager was just three hundredths of a second slower over the final 100m than Ryan Lochte, winner of the men's race.
Miley came fifth in that race, a year after taking silver at the World Championships, and the pair met again on Wednesday morning, in heat three side by side at the Sinan Erdem Dome.
Different tactics are employed with the event going straight to a final, and Ye was clearly holding back over the freestyle as an impressive Miley touched in four minutes 28.91 seconds, the fastest through.
Former world champion Katinka Hosszu was second and Ye third, swimming well within herself before a turn of pace on the final 50m.
Miley said: "I reckoned in the heat she was backing off because I was like 'she's not coming, she's playing'.
"Which is good - every athlete does that, it shows the athlete has great prowess to be able to play about like that in the heat swim."
The Garioch swimmer, who claimed the European short-course title last month, continued: "It wasn't all max hard but it wasn't a comfortable swim if that makes sense.
"For me watching Zsuzsanna Jakabos and Ye Shiwen going out so hard, I did kind of feel they were holding back second half to give them a bit more rest."
Ye said: "It went okay. I always feel very tired at the beginning of a competition, it is always very hard. I didn't even reach my personal best."
This somewhat contradicts her overwhelming performance in London - which came on the first day of competition.
Racing
As well as Miley, Jemma Lowe, four-time Olympic finalist, will also compete in a final on Wednesday night after qualifying seventh in the 200m butterfly (2:06.14).
In London, the Swansea ITC swimmer was sixth in the 200m, something she admits "feels like ages ago".
The 22-year-old said: "It was weird racing this morning because it was my first race since the Olympics.
"Before the Olympics it was really hard to look past it, and think what was going to be happening afterwards, but now I am back into training and racing again, it's like it never happened."
Meanwhile, Olympic 200m breaststroke silver medallist Michael Jamieson reached the 100m breaststroke semis in a personal best of 58.61 - although he admitted he had had to go all out.
He said: "I am not big enough or quick enough over the 100 to take it easy in these earlier rounds but that is all right, it's not bad."
Lizzie Simmonds and Georgia Davies reached the 100m backstroke semis and the women's 4x200m freestyle squad qualified for the final.
Ieuan Lloyd and Robbie Renwick were joint 20th and 28th respectively in the 200m freestyle although the former's time of 1:45.67 was a new Welsh record.
Chris Walker-Hebborn (100m backstroke), Craig Benson (100m breaststroke) and the men's 100m freestyle relay did not progress.
There was also a notable performance from Olympic 100m breaststroke champion Ruta Meilutyte.
The teenager, who studies at Plymouth College and represents Lithuania, set a new championship record of 29.56 in the 50m breaststroke heats.