World Short-Course Championships: Hannah Miley misses out on second medal
Hannah Miley finished fourth in the 800 metres freestyle at the World Short-Course Championships in Istanbul.
Last Updated: 13/12/12 9:08pm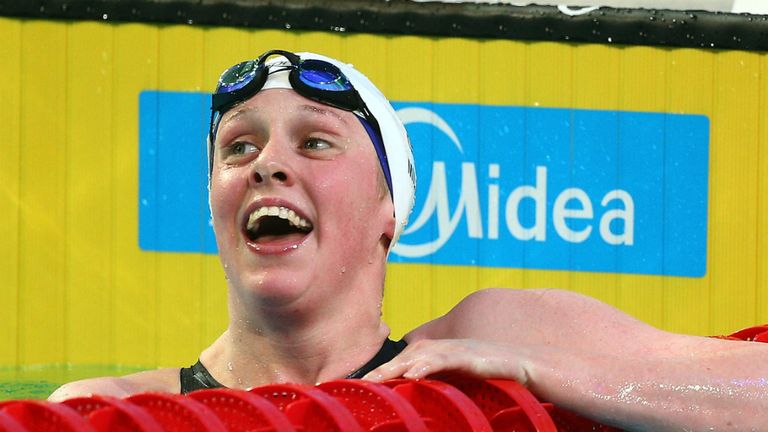 Miley took gold on Wednesday when she withstood the challenge of Olympic champion Ye Shiwen in the 400m individual medley.
The 23-year-old was unable to repeat her heroics and finished fourth in eight minutes 16.09 seconds.
The race was won by New Zealand's Lauren Boyle, who was under Rebecca Adlington's championship record until the 750m mark but finished 0.37s outside. Second was 2008 Olympic bronze medallist Lotte Friis and third Chloe Sutton of the United States.
City of Sheffield's Eleanor Faulkner, with whom Miley sometimes trains, was eighth in 8mins 22.96secs.
Miley said: "I think I might have gone out a little bit harder than I expected but that is the experience of racing an 800 at such a high standard.
"I am used to doing it at district or maybe national level but to do it at international level is a whole different kettle of fish. So I am really happy with that."
Welsh record
Also on Thursday evening, Georgia Davies was fifth in the 100m backstroke in a new Welsh record.
Lithuania's Ruta Meilutyte continued her success in 2012 by winning the 50m breaststroke in a new championship record of 29.44.
The 15-year-old, based at Plymouth College, said: "Really, really pleased. I couldn't ask for more - a championship record and gold. Every medal I win is something special."
South Africa's Chad le Clos was crowned 100 metres butterfly champion wiith a time of 48.82 seconds, ahead of American pair Thomas Shields and Ryan Lochte.
Japanese swimmer Daiya Seto, 18, became just the fifth man to dip below the four minute mark as he won the 400m individual medley, while Italian Fabio Scozzoli took the men's 100m breaststroke title.
In the 100m backstroke, Matt Grevers added the short-course title to his Olympic crown. The American made the most of being 6ft 8in to edge out Russian Stanislav Donets by 0.02s in 49.89.
Ieuan Lloyd set his third Welsh record in two days as he led off the 4x200m freestyle squad in 1:45.24, the quartet finishing seventh as Ryan Lochte picked up his third gold medal - and fourth overall - with the United States.