World Cup skiing: Slovenia's Tina Maze sets single-season points record
Tina Maze set a new record for World Cup points in a season with victory in the downhill at Garmisch-Partenkirchen.
Last Updated: 02/03/13 7:12pm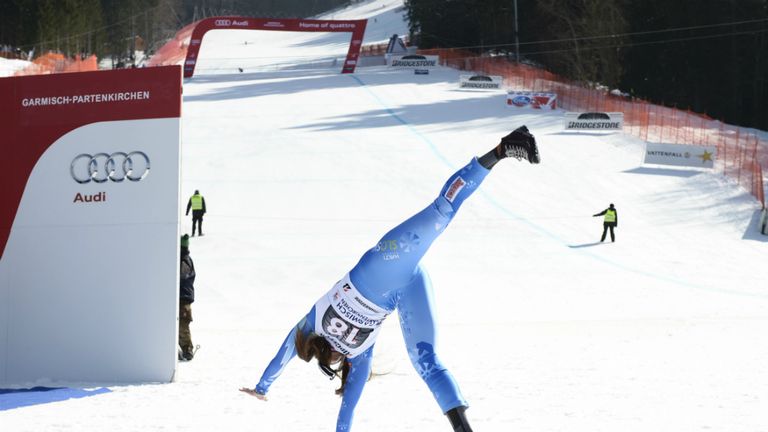 The Slovenian's win took her tally to 2,024 points, surpassing Austrian man Herman Maier's mark of 2,000 from the 1999-2000 season.
Maze, 29, had already clinched the women's overall title and led at every split on the Kandahar course to post a winning time of one minute, 40.46 seconds.
Her ninth victory of the season makes her only the second woman, after Croatia's Janica Kostelic in 2006, to win in all five alpine disciplines in the same campaign.
Special
"I've already been very happy but rarely as much as today," said Maze.
"I don't know what I'm most happy about. So many things are happening to me today.
"It's really special to win the downhill. This season, I had skied well in the downhill, but never managed to cross the finish line with a faultless performance.
"I had a bit of luck to St Moritz, when I won my first downhill (in February 2008), but there was no luck involved today, it's incredible and I'm very happy."
American Laurenne Ross finished second, 0.39s adrift of Maze, with local favourite Maria Hoefl-Riesch in third, 0.50s behind.
Injured
Ross' team-mate Alice McKennis, a downhill winner in St Anton earlier in the season, crashed heavily on the icy piste and was airlifted to hospital with a broken leg.
"Alice McKennis suffered a fracture to her right tibial plateau as a result of a downhill crash Saturday in Garmisch-Partenkirchen," said US Ski and Snowboard Association medicals director Kyle Wilkens in a statement.
"She was evacuated by helicopter as part of FIS standard procedure and evaluated immediately at the hospital in Garmisch. She is stable and will undergo further evaluation to determine the next steps for treatment."