Tom Daly returned to action with victory in the World Series in Edinburgh
Tom Daley won his first major 10-metre platform competition since the Olympic Games in Edinburgh on Sunday.
Last Updated: 22/04/13 10:17am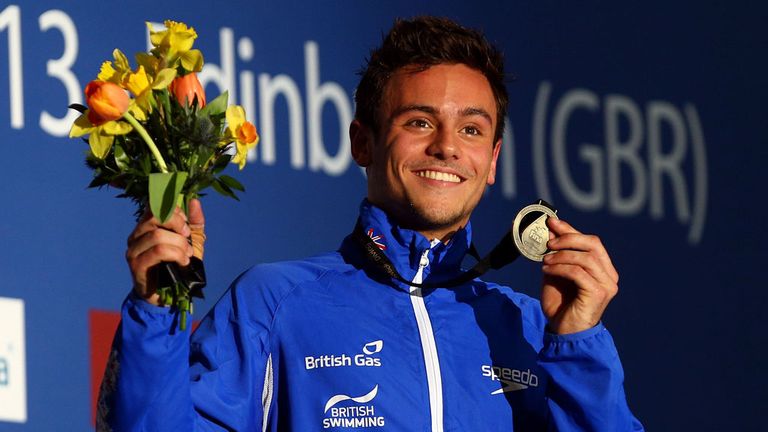 Competing in the World Series, the Briton posted a score of 542.15 to beat a select four-man field.
Daley qualified in first place but had to overcome a sluggish start to ensure a mostly teenage sell-out crowd at the Royal Commonwealth Pool were whipped into hysterics.
From there Daley took charge earning 9.5s for his next, and most difficult front four-and-a-half somersaults, before capping victory with another 10.
They had to wait until Daley's third dive, a back three-and-a-half somersault, before finding their full roar as he earned the first 10s of the three-day meet.
Russia's Victor Minibaev, fourth behind the bronze medallist at last year's Olympics, ran his British rival close to end just 4.55 points behind.
Daly looked fit and raring to attack a new season that will culminate with the World Championships in July.
While his major rivals for that title, which he first won as a 15-year-old in 2009, were not in attendence this week, Daley has at the very least set an early-season benchmark for the likes of Olympic champion David Boudia and Qiu Bo who are yet to compete in 2013.
"Out of 10 for today I'd give myself an eight," he said. "There is still a lot to improve on with my first two dives. I can step up a little bit more.
"But this is good for where I am at this stage of my training cycle and the four-year cycle.
"To be scoring so high at this stage of the game, I wouldn't say I'm surprised because I know I could do it but it did come as a nice reward for all the hard work I've put in.
"I haven't necessarily been seeing the rewards in training recently. It's been quite tough. To come here and dive well gives you an extra boost."
Daley's success also ensured Great Britain finished the meet equal second on the medal table with one gold, a silver and a bronze and Tonia Couch finished fourth in the platform.