Tampa Bay Rays and Minnesota Twins score convincing victories
JA Happ watched on as the Toronto Blue Jays fell to a 10-4 defeat against the Tampa Bay Rays.
Last Updated: 10/05/13 7:57am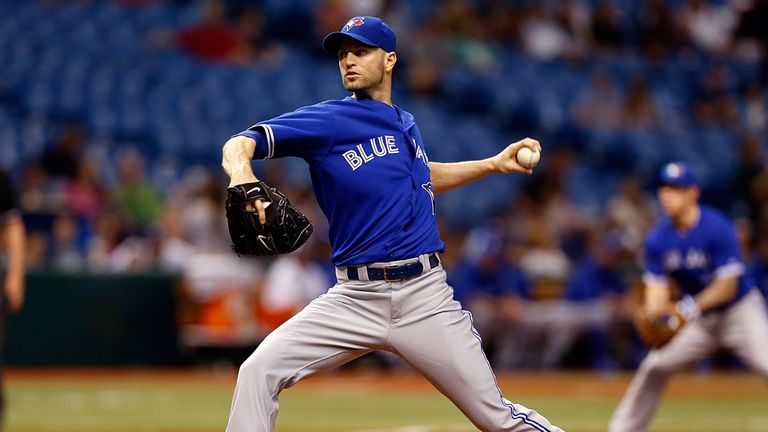 A day after being taken to hospital when he was hit in the head by a line drive, Happ was at Tropicana Field to watch Evan Longoria and Kelly Johnson hit home runs which helped the Rays sink his side.
Happ, who suffered a minor fracture of the skull and no concussion, held a surprise press conference before the game and said: "I feel very fortunate. I got some stitches and there's a fracture in the bone in my skull behind my ear. But it's not serious or threatening. We'll let those heal."
He could not inspire the Blue Jays to victory, though, as starter Ricky Romero was chased from the game having recorded only one out.
David Ortiz's hitting streak ended at 27 games as the Boston Red Sox fell to a 15-8 loss to the Minnesota Twins in a wild game at Fenway. The Red Sox led 5-4 after the first inning thanks to Jonny Gomes' grand slam, but Pedro Florimon homered and had a two-run double in a seven-run second for the Twins and they never looked back.
There was controversy in Cleveland where the umpires denied Adam Rosales an apparent game-tying home run as the Indians beat the Oakland Athletics 4-3.
Rosales appeared to have homered off Indians closer Chris Perez in the ninth, but, even after viewing replays which appeared to confirm the shot had cleared the wall, the officials ruled it a double.
Jason Marquis hurled eight shutout innings to lead the San Diego Padres to a 1-0 victory over the Miami marlins while Felix Hernandez threw eight innings of one-run ball to lift the Seattle Mariners to a 2-1 win over the Pittsburgh Pirates.
Dan Uggla homered twice as the Atlanta Braves eased to a 7-2 win over the Cincinnati Reds and Andres Torres hit a game-winning RBI single in the 10th to give the San Francisco Giants a 4-3 walk-off victory over the Philadelphia Phillies.
Bryce Harper homered and drove in a pair to lift the Washington Nationals to a 3-1 victory over the Detroit Tigers, while the Chicago White Sox saw off the New York Mets 6-3 and the New York Yankees edged out the Colorado Rockies 3-2.
The St Louis Cardinals beat the Chicago Cubs 5-4, the Texas Rangers were 4-1 winners over the Milwaukee Brewers, the Houston Astros overcame the Los Angeles Angels 3-1 and the Baltimore Orioles saw off the Kansas City Royals 5-3.