MLB: Madison Bumgarner pitched seven strong innings as the Giants beat the Dodgers
Madison Bumgarner pitched seven strong innings to help the San Francisco Giants record a 4-2 win over the Dodgers.
Last Updated: 07/07/13 8:23am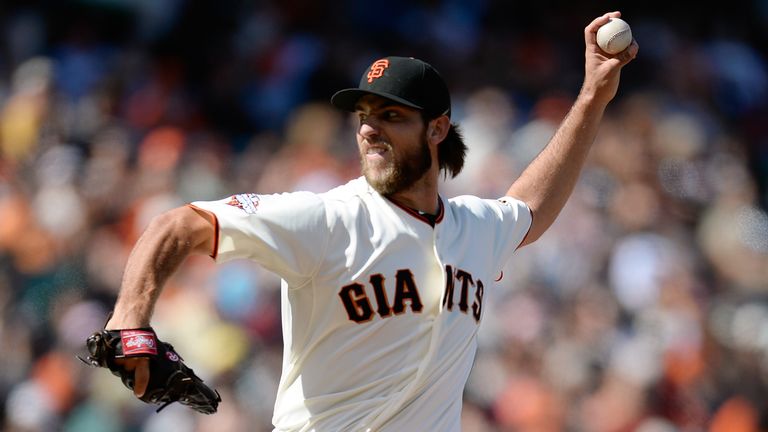 Buster Posey appeared to have driven in a run in the first, but he had batted out of order. As a result, Pablo Sandoval, who should have been batting, was given out, and Posey had to try again - flying out to end the inning.
In the end it did not matter though as Bumgarner celebrated his call-up to the All-Star team by striking out nine in seven innings, allowing two runs on three hits, and also had two RBIs despite not registering a hit.
Torii Hunter fell a single short of the cycle to lead the Detroit Tigers to a 9-4 win over the Cleveland Indians.
Matt Moore picked up his career-best 12th win of the season as the Tampa Bay Rays beat the Chicago White Sox 3-0.
Eduardo Nunez drove in two as the New York Yankees rallied from an early three-run deficit to beat the Baltimore Orioles 5-4.
Alfonso Soriano hit two-run homers in the fourth and fifth innings to account for all of his side's runs in the Chicago Cubs' 4-1 victory over the Pittsburgh Pirates.
Twins beat Blue Jays
Mike Pelfrey threw six scoreless innings and Brian Dozier launched a three-run homer in the Minnesota Twins' 6-0 victory over the Toronto Blue Jays.
Jason Castro completed a day which saw him earn his first All-Star call-up by hitting a three-run homer in the Houston Astros' 9-5 win over the Texas Rangers.
The St Louis Cardinals walked off with a 5-4 win over the Miami Marlins as Jon Jay scored on Giancarlo Stanton's throwing error in the ninth.
Andrelton Simmons was a double short of the cycle, with Jason Heyward and Dan Uggla also homering in the Atlanta Braves' 13-4 win over the Philadelphia Phillies.
The Cincinnati Reds beat the Seattle Mariners by the same scoreline, with Mat Latos striking out 11 in six innings and also hitting a two-run double.
Cody Ross went five-for-five and Paul Goldschmidt hit his 21st home run of the season in the Arizona Diamondbacks' 11-1 rout of the Colorado Rockies.
The Los Angeles Angels came from behind to floor the Boston Red Sox 9-7 over 12 inning, the Washington Nationals edged out the San Diego Padres 5-4, the Kansas City Royals overcame the Oakland Athletics 4-3 and the Milwaukee Brewers held on for a 7-6 win over the New York Mets.