MLB: Adam Jones' two-run home run helps Baltimore Orioles beat New York Yankees
Adam Jones cracked a two-run homer in the ninth inning off New York Yankees closer Mariano Rivera as Baltimore won 2-1.
Last Updated: 08/07/13 7:23am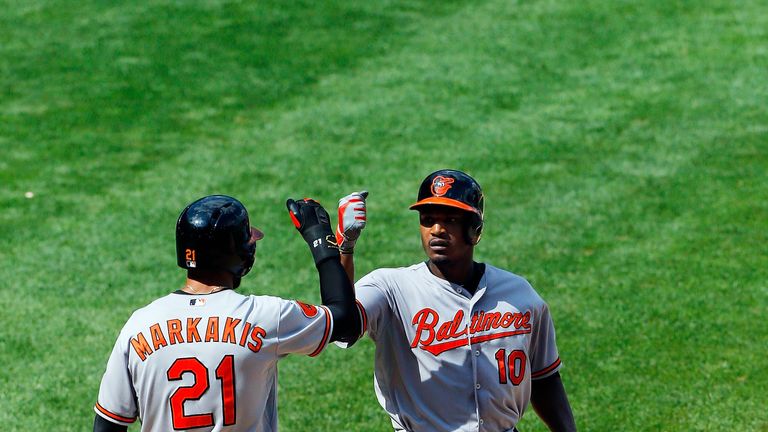 The Orioles looked like seeing their losing streak reach four as they entered the ninth trailing by one thanks to Eduardo Nunez's sacrifice fly in the second. But Nick Markakis singled and Jones went yard as Rivera blew just his second save of the season.
Carlos Beltran stole home to help lift the St Louis Cardinals to a 3-2 win over the Miami Marlins. Beltran spotted the opportunity to go for home as Matt Holliday was caught in a rundown between first and second, and scored to put the Cardinals 3-1 up.
Patrick Corbin demonstrated the form that earned him an All-Star call-up, throwing eight innings of one-run ball in the Arizona Diamondbacks' 6-1 win over the Colorado Rockies.
Clayton Kershaw was similarly dominant, allowing one run in eight strong innings as the Los Angeles Dodgers beat the San Francisco Giants 4-1.
Jeff Weaver tossed 6 2/3 scoreless frames and Mike Trout homered for the second night running in the Los Angeles Angels' 3-0 win over the Boston Red Sox.
Complete-game win
David Price allowed one run for a complete-game win as the Tampa Bay Rays beat the Chicago White Sox 3-1. Price allowed eight hits and fanned five, while Luke Scott had two hits and a run.
Josh Reddick drove in four on two hits, including a homer, as the Oakland Athletics beat the Kansas City Royals 10-4.
Todd Redmond earned his first Major League win and Rajai Davis' three-run shot was one of three homers for the Toronto Blue Jays as they saw off the Minnesota Twins 11-5.
Pinch-hitter Dioner Navarro's sacrifice fly in the 11th inning gave the Chicago Cubs a 4-3 walk-off win over the Pittsburgh Pirates. All-Star Domonic Brown drove in a pair on a home run and a triple as the Philadelphia Phillies overcame the Atlanta Braves 7-3.
Ryan Zimmerman launched a grand slam to help the Washington Nationals beat the San Diego Padres 11-7, while the New York Mets scored both their runs on throwing errors by Juan Francisco in their 2-1 win over the Milwaukee Brewers.
The Cleveland Indians beat the Detroit Tigers 9-6, the Texas Rangers edged out the Houston Astros 5-4 and the Seattle Mariners were 3-1 winners over the Cincinnati Reds.