MLB: Three-run homer gives LA Dodgers the edge over Toronto Blue Jays
Adrian Gonzalez crushed a three-run homer to help Los Angeles Dodgers to a fifth straight win on Tuesday.
Last Updated: 25/07/13 2:18pm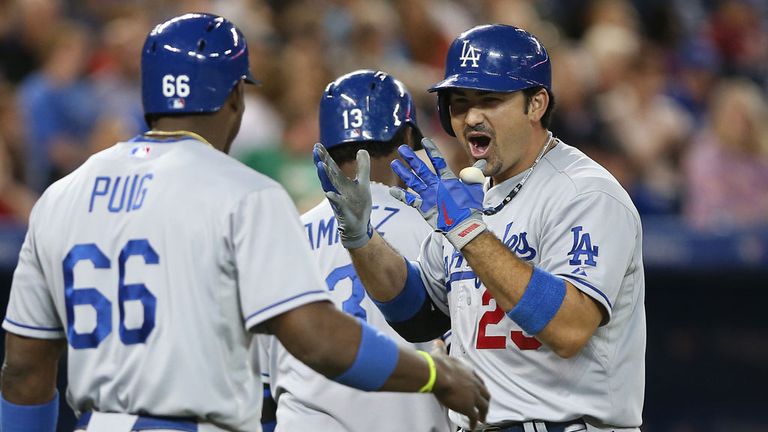 Leading the way in the battle for supremacy at the top of the National League West after a spurt that has now seen them win 22 of 27 games, the Dodgers were trailing 8-6 when Gonzalez went deep in the eighth inning, soon backed up by Andre Ethier's homer.
Arizona kept up the pressure with a 10-4 home win against the Chicago Cubs, with AJ Pollock driving in three runs.
Devin Mesoraco also blasted a three-run homer in a 9-3 win for the Cincinnati Reds over the San Francisco Giants. The teams played twice today and in the second contest the tables were turned as the Giants posted a 5-3 success.
The Pittsburgh Pirates saw off the out-of-form Washington Nationals 5-1, while the New York Mets were 4-1 winners against the Atlanta Braves and the St Louis Cardinals prevailed, also by a 4-1 margin, over the Philadelphia Phillies.
Giancarlo Stanton homered as the Miami Marlins beat the Colorado Rockies 4-2, and Nick Hundle and Will Venable did likewise for the San Diego Padres in a 6-2 victory over the Milwaukee Brewers.
The Boston Red Sox continue to lead the way in the American League, after a 6-2 win over the Tampa Bay Rays, which came on the back of a sharp pitching performance from Jon Lester, despite conceding a pair of home runs.
The New York Yankees edged the Texas Rangers 5-4, and it was by the same scoreline that the Houston Astros ended a six-game losing run as they beat the Oakland Athletics.
An error-ridden display from the Chicago White Sox allowed the Detroit Tigers to take a 6-2 win, aided by a homer from Jhonny Peralta, while the Kansas City Royals beat the Baltimore Orioles 3-2.
Leading the way in Major League winning streaks are the Seattle Mariners who notched up an eighth victory in a row as they clung on for a 4-3 success against the Cleveland Indians.
In the day's other game, Minnesota drubbed the Los Angeles Angels 10-3.