MLB: Oakland Athletics draw level with Texas Rangers at the top of AL West
Coco Crisp hit a decisive two-run homer as the Oakland Athletics recorded a 4-2 win over the Texas Rangers.
Last Updated: 03/09/13 10:21am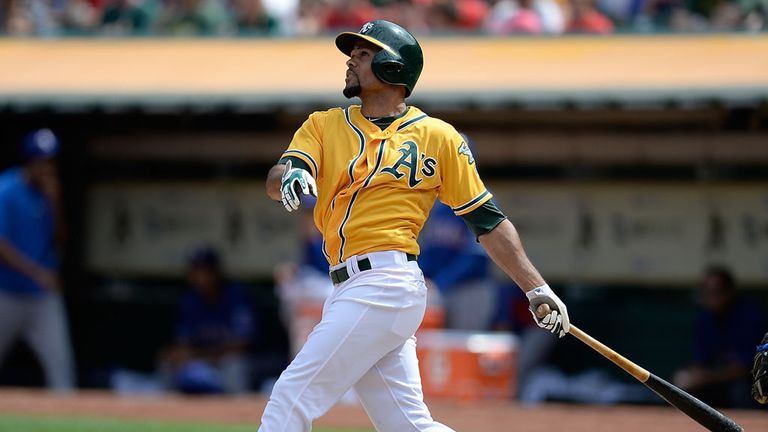 Yoenis Cespedes also went yard for the A's who have now won four straight games to move to 79-58 for the season, the same record as their opponents.
Elsewhere, the Los Angeles Angels thrashed the Tampa Bay Rays 11-2 with Erick Aybar swatting a home run and four RBI.
On Monday, Labor Day in the United States, the Seattle Mariners went down 3-1 to Kansas City Royals while Houston lost 10-6 to Minnesota, for whom Chris Colabello hit a go-ahead grand slam in the ninth inning.
The Detroit Lions continue to lead the way in the AL Central, a 3-0 win over AL East table-topping Boston Red Sox increasing their advantage to 8.5 games.
Bud Norris twirled seven innings of one-run ball to give his Baltimore Orioles side a 7-2 win over the Cleveland Indians. Nate McLouth and Matt Wieters each hit two-run homers for the Orioles.
The Atlanta Braves rode the hot bat of Freddie Freeman to continue to set the pace in the National League East. Freeman hit a two-run double in the first and a three-run homer in the second as the Braves downed the New York Mets 13-5.
Closest challengers the Washington Nationals were edged out 3-2 by the Philadelphia Phillies, for whom Carlos Ruiz delivered two RBI including the go-ahead single in the eighth.
Jose Tabata had two RBI and Neil Walker hit a three-run homer as the Pittsburgh Pirates claimed sole possession of first place in the NL Central with a 5-2 win over the Milwaukee Brewers.
Pirates pitcher Charlie Morton had a sixth straight quality start to move his side a game ahead of the St Louis Cardinals, who went down 7-2 at the Cincinnati Reds.
NL West leaders the Los Angeles Dodgers won a wild encounter with the Colorado Rockies 10-8 while the Toronto Blue Jays beat the Arizona Diamondbacks 4-1, the San Diego Padres beat the San Francisco Giants 4-1, the Miami Marlins beat the Chicago Cubs 4-3 and the New York Yankees eased past the Chicago White Sox 9-1.