MLB: Boston Red Sox smash eight homers in rout of Detroit
David Ortiz was the star as the Boston Red Sox equalled the franchise record in a 20-4 thrashing of Detroit.
Last Updated: 05/09/13 7:15am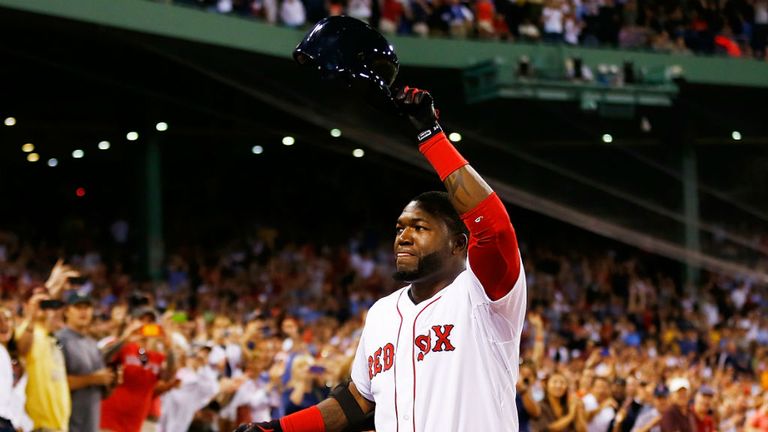 Slugger Ortiz homered twice and also doubled for his 2,000 career hit while Will Middlebrooks, Daniel Nava, Jacoby Ellsbury, Stephen Drew, Mike Napoli and Ryan Lavarnway also went yard for the home side.
AL East-leading Boston have won nine of their last 11 games, taking two out of three from the Central-leading Tigers to hold onto the best record in the league.
Cleveland moved to within six and a half games of Detroit with a 6-4 victory over Baltimore. They are also now a half-game ahead of the Orioles in the race for a wild-card spot.
Oakland moved back into a tie with Texas at the top of the AL West after beating the Rangers 11-4. Jarrod Parker allowed two runs in six innings to extend his unbeaten streak to 18 starts and Brandon Moss, Daric Barton and Coco Crisp provided the offense by each hitting two-run homers.
The surging New York Yankees won their 17th game out of the last 24 with a 6-5 defeat of the Chicago White Sox. CC Sabathia pitched effectively into the eighth inning for the Yankees, for whom Robinson Cano homered.
Thrashed
Also in the AL, Houston beat Minnesota 6-5 thanks to Trevor Crowe's RBI single in the bottom of the ninth, Seattle overcame Kansas City 6-4 and Tampa Bay won 3-1 at the Los Angeles Angels.
St Louis kept hold of second place in the National League Central with a 5-4 defeat of Cincinnati. Matt Adams' second homer of the night secured the win in the 16th inning.
NL Central leaders Pittsburgh were beaten 9-3 by Milwaukee with the Brewers rocking Pirates starter Francisco Liriano for seven runs on seven hits.
NL East leaders Atlanta were beaten 5-2 by the New York Mets, as were the NL West table-toppers, the Los Angeles Dodgers, 7-5 by Colorado.
San Diego were thrashed 13-5 by San Francisco - Pablo Sandoval hitting three homers, Washington edged out Philadelphia 3-2 and the Chicago Cubs overcame Miami 9-7.
In interleague play, Arizona beat Toronto 4-3 in 10 innings.