2013 America's Cup: Oracle Team USA's Jimmy Spithill insists champions are underdogs
Jimmy Spithill believes Oracle Team USA are not the favourites to win the 2013 America's Cup after being docked points
Last Updated: 06/09/13 10:03am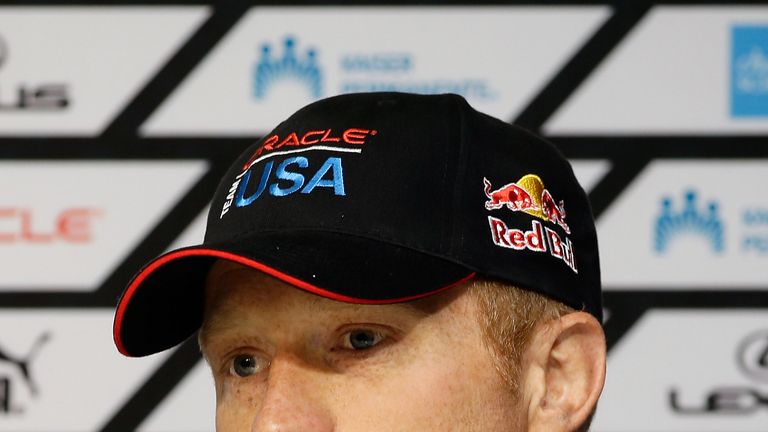 The Americans were penalised for cheating during preliminary regattas. Oracle must now win 11 races to defend their title while opponent Emirates Team New Zealand will need nine wins in the best-of-17 format event.
One Oracle sailor and two shore team members were banned outright and one sailor suspended four races after the team made illegal modifications to prototype boats it sailed in the America's Cup World Series.
Despite the expulsion of primary wing trimmer Dirk de Ridder and grinder Matt Mitchell's four-race suspension, Oracle can still rely on the talented Australian Spithill, who became the event's youngest champion, aged just 30, with Oracle's defeat of Swiss team Alinghi in 2010.
Further strengthening their ranks is American tactician and 11-time world champion John Kostecki, a 1988 Olympic silver medallist and 2001-02 Volvo Ocean Race winner. Oracle's other helmsman is British four-time Olympic gold medallist Ben Ainslie.
Spithill knows it will be tough to retain their crown following the points deduction, however, he believes the adversity has only served to galvanise the team.
Underdogs
"We found out only four days out from the Cup who our race team could be. We lost one of our key guys, and we start out Saturday two points behind," Spithill said. "So yes, I think we are the underdog.
"We have the fight of our life on our hands. There is a real hunger now given what has transpired. Something has clicked and come Saturday everyone is going to be fired up on our boat."
New Zealand will also bring its sailing passion to the Bay for the Cup finals, skipper Dean Barker promised his team will be giving their all: "We have done everything we can.
"The team is in very good spirits and excited now we can finally get to go racing. Whether you think you are the favourite or the underdog, it is two teams going racing."
This is the first time in the Cup's 162-year history that the races are being held "in-shore" to allow race-track style viewing for spectators on the shoreline.