2013 America's Cup: Five things to watch in the 34th edition of the competition
Sky Sports pinpoints some of the things to know ahead of the start of Saturday's first race.
Last Updated: 07/09/13 9:49am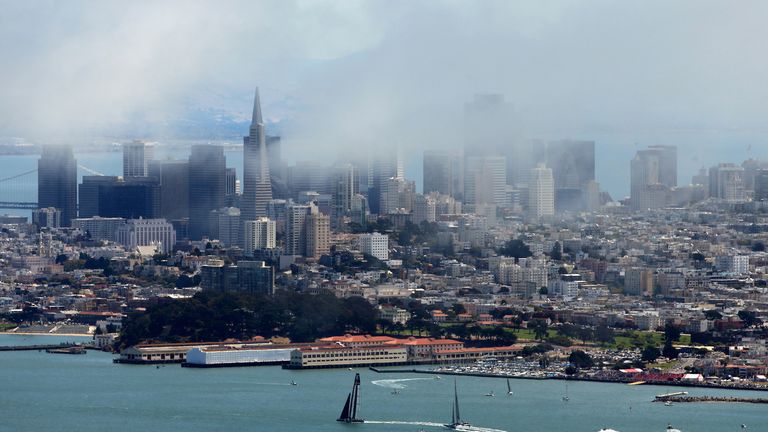 San Francisco:
Tony Bennett sang about leaving his heart here, and skipper Jimmy Spithill and the boys from Oracle Team USA want to keep the America's Cup in the City by the Bay. While past America's Cups have been contested miles out at sea, this one will be sailed in one of the world's greatest natural amphitheaters, with a steady wind and sometimes tricky tide. Fans can watch from the shore or high-rise buildings. After starting parallel to the Golden Gate Bridge, the boats sail a short reach across the wind and then speed downwind past Alcatraz Island. The five-leg course ends just off Piers 27-29, home to America's Cup Park. TV shots will feature the Golden Gate and San Francisco-Oakland Bay bridges, the Coit Tower and the Transamerica Pyramid.
Larry Ellison:
The co-founder and CEO of Oracle Corp. is an avid sailor who's spent an estimated $500 million over the past 10 years in pursuing, winning and now defending the silver trophy. Then again, his estimated net worth of $43 billion makes him one of the world's wealthiest individuals. People either love or hate Ellison, and there's been plenty of grumbling that his grand vision for a regatta with a dozen or more challengers fizzled, in part because of the economy and the expensive, dangerous boats. Ellison hasn't been seen publically and has been kept away from the press, except for one TV interview. His presence is still felt, though. Two of his super yachts, the 288-foot Musashi and the 184-foot Asahi are moored at America's Cup Park. Also on techie-billionaire row are Athena, owned by Jim Clark (Netscape, Silicon Graphics) and Senses, owned by Ellison's rival, Larry Page of Google. Senses moored between Ellison's yachts stands out because of the red helicopter on the helipad on the stern.
The Scandal:
Oracle Team USA was caught illegally modifying 45-foot catamarans that were used in the warm-up regattas called the America's Cup World Series. Besides docking Oracle two points, wing trimmer Dirk de Ridder was booted from the regatta, along with two shore crew members. Grinder Matt Mitchell was banned from the first four races and the syndicate was fined $250,000. Although Spithill and syndicate CEO Russell Coutts were never implicated, the jury said it "seems inconceivable that boat riggers initiated these changes without the knowledge of managers, or the direction of sailors, if not skippers." Spithill has been almost defiant, saying Oracle is a clear underdog. He also called on locals to support the crew. "We want to keep the Cup here. These guys don't," he said at a news conference, referring to ETNZ skipper Dean Barker and trimmer Glenn Ashby. "We're counting on San Franciscans to come out and support us."
The Basics:
The 72-foot catamarans are powered by 131-foot wing sails that look and perform like jetliner wings, including flaps. At around 20 knots, the boats lift onto hydrofoils, their hulls completely out of the water to reduce drag and increase speed. It takes 11 crew to sail the demanding boats, and the sailors bound across the trampoline from one hull to another when the boats tack or gybe. The sailors wear crash helmets and life vests. After Artemis Racing's Andrew "Bart" Simpson was killed in a capsize on May 9, sailors began wearing body armour, knives, an air tank and breathing tube, self-lowering equipment and underwater locator devices. There will be two races a day on Saturday, Sunday, Tuesday, Thursday and, if needed, next Friday, Saturday, Sept. 17 and Sept. 19. A single race is set for Sept. 21, if needed. The series would continue beyond that to accommodate Oracle's need to win 11 races.
Goon On Ya, Mate:
There's a definite Down Under flavour to the America's Cup. Oracle skipper Spithill is Aussie, although his wife is from San Diego and they have a home there. Coutts won the first two of his four America's Cups with his native New Zealand. Of Emirates Team New Zealand's 15 sailors, 13 are Kiwis and the other two are Aussies, although Adam Beashel also has a New Zealand passport. Of the 11 men who will sail Oracle Team USA, four are Aussies and two are Kiwis. Only two are Americans, tactician John Kostecki, a San Francisco native, and grinder Rome Kirby, whose father, Jerry, competed in six America's Cup campaigns. Ashby, Team New Zealand's Aussie-born trimmer, has sailed with both Spithill and Barker. "They probably both want to kill each other," Ashby said. In a figurative sense, the aggressive Spithill would like to do that in the pre-start manoeuvres and round the first mark in first place, a bellwether to how the series might go.