2013 America's Cup: Team New Zealand take a 2-0 lead over Team Oracle USA
New Zealand skimmed above the waves faster than Oracle Team USA to win the first two races of the 34th America's Cup.
Last Updated: 08/09/13 11:16am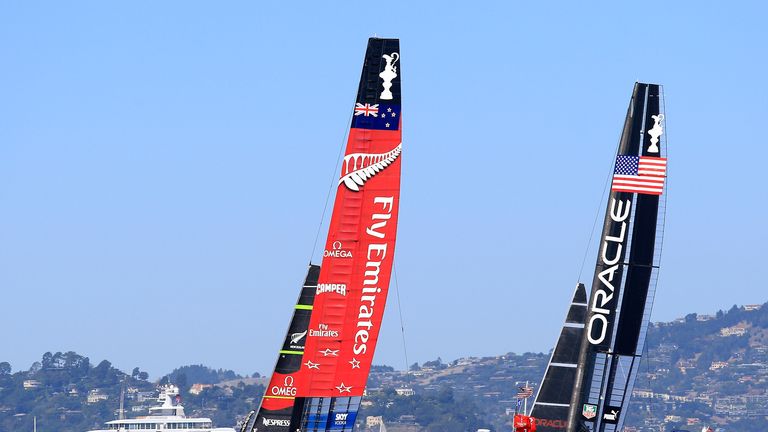 With low-key skipper Dean Barker at the wheel of the high-performance catamaran, the Kiwis lost and then regained the lead to win the opening race by 36 seconds.
Team New Zealand, showing better speed and crew work, led the whole way in the second race to win by 52 seconds on a hot, gorgeous day on San Francisco Bay.
This was the first America's Cup contested inshore, and the first in foiling catamarans, which lift onto hydrofoils when they reach a certain speed.
The Kiwis, representing the hopes of small, sailing-mad country, took it to the American powerhouse. There were two lead changes in the first race, but Barker dominated the second race.
Aggressive
Oracle skipper Jimmy Spithill was aggressive and came close to touching the Kiwi boat with his starboard hull in the prestart of the second race but no penalty was called. The boats were slow off the line before Team New Zealand accelerated and lifted onto its foils and beat the Americans across the reach to the first mark.
The Kiwis simply covered the American syndicate the rest of the way. New Zealand had a seven-second lead rounding the second mark, but Oracle crashed its starboard bow into the waves rounding the mark and lost speed.
When Barker and the Kiwis ripped around mark three and began foiling, they led by 46 seconds.
In the first race, Barker had a slight lead crossing the starting line just inside of the Golden Gate Bridge and beat Spithill to the first mark.
Barker kept the lead sailing downwind and was four seconds ahead at the second mark, but slowed down a bit shortly after turning onto the windward leg. The first time the catamarans crossed, Spithill had sailed Oracle into the lead.
Advantage
But Spithill let the Kiwis get the starboard tack advantage and they protected the favoured left side of the course sailing past the city front. In the second lead change on the leg, Barker sailed ahead and built a safe advantage.
Oracle appeared to have some kind of damage on its wing sail after the first race. The wing sail looks and performs like an airplane wing, including a front element and flaps.
The Kiwis need seven more wins to claim the oldest trophy in international sports for the Royal New Zealand Yacht Squadron, which held the Auld Mug from 1995-2003.
Oracle Team USA, owned by software billionaire Larry Ellison, must win 11 races to retain the cup. An international jury docked the team two points in the biggest cheating scandal in the competition's 162-year history.