America's Cup: Sir Ben Ainslie and Oracle Team USA aim to complete miracle comeback
Sir Ben Ainslie and Oracle Team USA will attempt to become sporting immortals tonight by winning the America's Cup.
Last Updated: 25/09/13 10:43am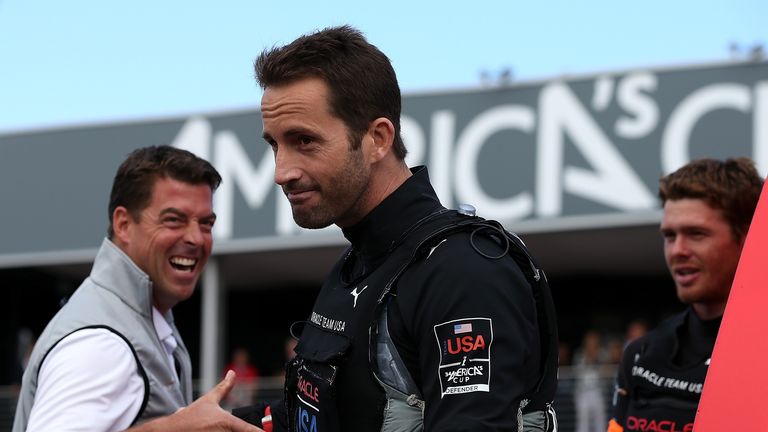 The American team have battled back from 8-1 down to Emirates Team New Zealand to level the series and set up an epic, winner-takes-all decider on Wednesday night, live on Sky Sports.
Ainslie, winner of four Olympic gold medals, has been instrumental in one the astonishing rally, deciding on the tactics though each race in San Francisco Bay.
As Oracle has clawed their way back into the contest, America has become gripped, with the fightback capturing the imagination of the public.
The American team was penalised two points at the start of the competition and have had to win 10 of the 18 races so far to level the series up.
Only twice before in the 162-year history of the competition has there been a winner-take-all race, in 1920 and, famously, in 1983 when Australia II became the first boat ever to beat the Americans.
Speaking after Oracle won both of Tuesday's races to make it 8-8, Ainslie said that the team is calm and will not do anything differently ahead of tonight's showdown.
Energy
"You just have to approach it like you have every other race," he said. "You really have to go out and go through the same preparations, the same preparation of the boat, the same preparation in the morning, the pre-start warm-up and of course - like every other race - the guys will give it everything all the way to the finish."
USA skipper Jimmy Spithill said: "We've come back from a very deep hole, we've worked very hard and we want this. We're going to work very hard tonight and we'll be ready tomorrow. This team has been through so much. We've had to deal with staring down the barrel of a gun. Just the energy of the team - you start to fight back, claw back into it.
"That momentum - the fact that we've got the whole of San Francisco now coming down to support us, we've got the whole nation now behind us. Who would have though that in sailing? That sort of momentum, that sort of energy, it's incredible."
New Zealand captain Dean Barker admitted: "It was really quite amazing, well, not so much being on the other side of it.
"But you've got to give credit where credit is due. It's winner-takes-all and it's going to be a tough race. Both teams are equally hungry to win this thing. We'll go out there as best as we can, and we'll fight all the way to the end.
"We do believe we can win, we've known we can win this thing for a long time. It's one thing to talk about it and another thing to do it. We have to do everything right and sail as well as we can.
"We're going to prepare as we have been and we have confidence we can win this. No one's slightly head-down or lacking in confidence. We know if we put the pieces together we'll be successful."
The final race of the 2013 America's Cup is live on Sky Sports 2 HD from 9pm tonight or you can watch all the action unfold with a 24-hour Sky Sports Day Pass from NOW TV. For more information visit click here