America's Cup: Dream come true for Sir Ben Ainslie Ainslie
Sir Ben Ainslie has admitted he has achieved a childhood dream in winning the America's Cup.
Last Updated: 26/09/13 8:58am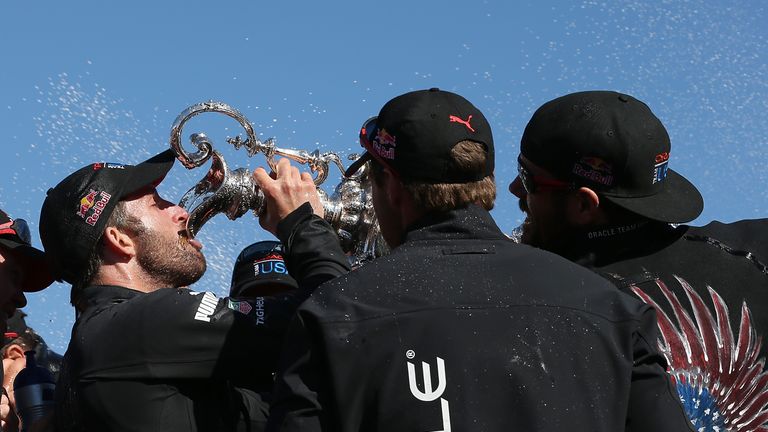 Ainslie was crucial to Oracle's success in San Francisco with the 36-year-old helping to mastermind one of the great sporting comebacks.
Ainslie was drafted in as tactician after Race Five, with Team New Zealand having already opened up a commanding lead.
However from being 8-1 down, Oracle came storming back to rattle of eight successive wins and lift the Auld Mug once again.
And Ainslie told Sky Sports that the victory in the event was a dream come true.
The four-time Olympic gold medallist said: "It is huge for the team and for me personally. As a kid I dreamt of one day being involved in the America's Cup.
"I grew up down in Falmouth in Cornwall and used to watch Peter de Savary's America's Cup boats training, so to win it is unbelievable and perhaps one day we can see a British team winning it.
Proud
"We've a very proud maritime heritage in the UK and it is where it all started in 1851 so hopefully we will see it back in British waters."
Ainslie, who formed Ben Ainslie Racing with a view to taking part in the next America's Cup, believes there are no reason why Britain can't bring the competition home.
"I think we have, in terms of the sailors and designers, the talent in the UK but it takes a lot to bring this together in terms of the commercial support and the financial support to run one of these teams," he said.
"Now this America's Cup is over things will develop pretty quickly for the next one so we will have to see where and when that will be and what type of boat it will be but a British team is something that is very viable and if we got the right people together it could ultimately be successful."
Ainslie has previously tasted success as an individual, winning world and Olympic titles in the single-handed Finn and Laser Radial classes.
However he admitted it was a special feeling to be part of a winning team.
"My Olympic sailing background has been in single-handed boats," he said.
"That is great as it is pretty much down to the individual. You have coaches and people in the background helping you out but when you are out on the water you are on your own.
Amazing
"The America's Cup is completely different. These teams are 100, 130-people strong. There are 11 people of the boat racing but a massive support crew in the background, from yacht designers to engineers, boat builders.
"It really is a big team effort and a big design effort as well. It has been amazing to be part of that team and to win as a team. To go through what this team has been through in the build-up to this event and during it and to then be involved in such an epic comeback has been an amazing experience."
Ainslie was called in replace tactician John Kostecki despite normally being a helmsman but he was able to quickly adapt to the new role - forming an instant bond with skipper Jimmy Spithill and strategist/grinder Tom Slingsby.
"A tactician is really responsible for deciding the strategy and the tactics where the boat goes on the course, how you try to manipulate the opposition if you are in the lead and how you hang on," said Ainslie.
"It is a different role for me, normally I am a helmsman so it is a little like going from a striker on a football team to a controlling midfield position.
"It is something I jumped at and I built a fantastic relationship with Jimmy Spithill, the skipper, and Tom Slingsby, who was at the back of the boat, and between the three of us we really got on a roll and the 11 guys on the boat really did a fantastic job.
"It is an incredible comeback and I don't think anyone thought we could comeback from 8-1 down."