Sir Ben Ainslie British challenge for the America's Cup is possible
Sir Ben Ainslie believes a British challenge for the America's Cup is possible.
Last Updated: 02/10/13 7:17am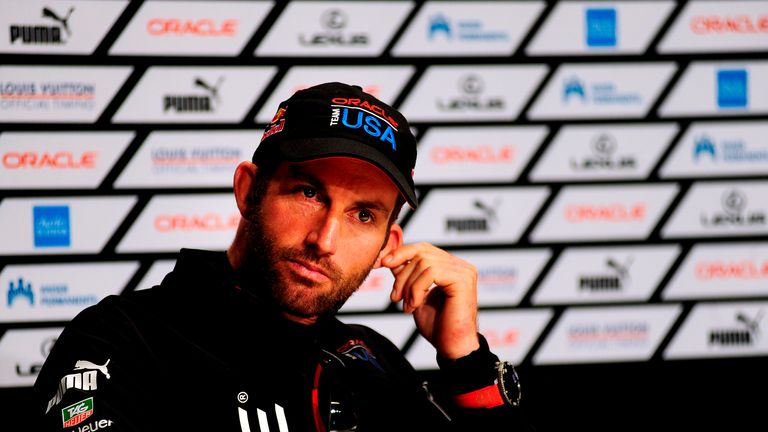 The British sailing great was the tactician for Oracle Team USA as they fought back from 8-1 down to beat Emirates Team New Zealand 9-8 in dramatic scenes in San Francisco Bay last week.
And Ainslie is hopeful that if the financial backing is made available, a British challenge is viable.
"We clearly have the talent in the UK with sailors, designers - there are a lot of sailors out there across the different teams," he told Sky Sports.
"In past America's Cups, the funding has been a critical issue. This time round, it's no secret that this type of boat got out of control - we only had four teams."
Financial issues
Ainslie believes that Larry Ellison, Oracle's funder and the man who controls the Cup, understands the financial issues with the event.
"He sees the need to reduce costs to bring more teams in, to make more it diverse and more commercially viable," Ainslie said.
Ainslie says he would not want a British team unless it had a shot to win the so-called 'Auld Mug' but ultimately "it depends on the rules moving forwards - the venue, the class of boat."
Ainslie knows Ellison wishes the "America's Cup was more like a sporting franchise much like baseball, football in the US. That's really how he'd like to mould the future of the America's Cup so the teams can be more commercial, perhaps have an ownership in the circuit.
"I think we'll see some quite dramatic changes - I certainly hope so."
Team effort
The four-time Olympic gold medallist insists Oracle's incredible turnaround, which is being called one of sport's greatest comebacks, was not just down to him.
"It was a team effort, there are 130 people in the Oracle team in set up and there are eleven of us out there on the boat racing, and yes, I came in halfway through the event when things weren't going to good but there are a number of other factors that were involved in our comeback," he said.
Ainslie, the Oracle tactician, said the difference between his boat, and the losing Emirates Team New Zealand was development.
"This Americas cup was always going to be a development race and I think that's the secret for us whereas I think the Kiwis maybe stood still and we kept developing our boat and we got faster and faster we got more confident and those last two races we were completely unstoppable," he continued.
The final contests of the America's Cup gained international media attention, something Ainslie claims was "the biggest positive out this event for the sport of sailing. It has really transformed people's ideas of sailing and to see how fast these boats go how physical they go."