Gymnastics World Championships: Great Britain's Max Whitlock wins silver
Great Britain's Max Whitlock has won silver in the pommel horse final at the World Gymnastics championships in Antwerp.
Last Updated: 05/10/13 7:43pm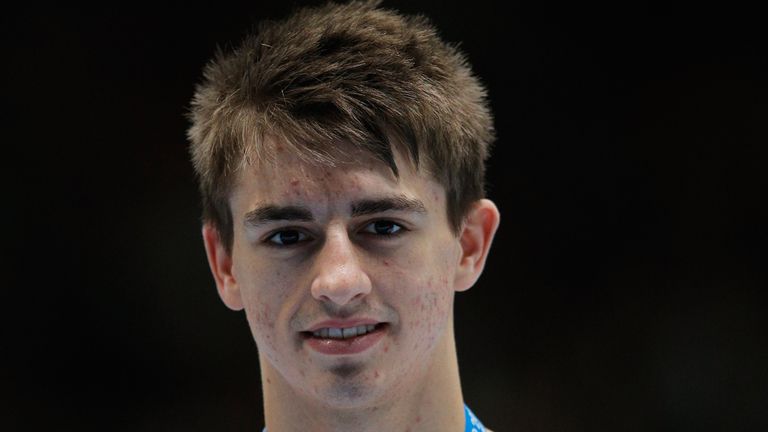 The 20-year-old Olympic double bronze medallist competed the most difficult pommel horse routine in the world - with a 7.2 difficulty tariff - to score 15.633 and go one better than his London 2012 third place to finish behind Japan's Kohei Kameyama, who won gold with 15.833.
Whitlock tied for second place with Mexico's Daniel Corral Barron, while there was also a tie for fourth place with Italy's Alberto Busnari and China's Hongtao Zhang both finishing with 15.600 in a hotly-contested final.
Britain's reigning European pommel horse champion Dan Keatings and Olympic champion Krisztian Berki were not in the final after both gymnasts fell from the apparatus during qualification.
However, it was still a very competitive field and Whitlock, who finished fourth in Thursday's all-around final, added world silver to his Olympic team and pommel horse bronze, European team and floor gold and pommel bronze medals.
A delighted Whitlock said: "I'm just happy to get through the routine.
"Some of the bits were scrappy but I'm just happy to get through the routine.''
Upward curve
The Hemel Hempstead-born gymnast hopes his results from this competition mark an upward curve in his form as he continues on the road to the Rio 2016 Olympic Games.
He added: "I'm looking forward to the competitions ahead. Hopefully I will be able to qualify for them and I'm looking forward to those experiences.''
Earlier, Britain's Daniel Purvis, who finished seventh in the all-around, came fourth in the floor final won by Japan's Kenzo Shirai, while Ruby Harrold and Beckie Downie finished seventh and eighth in the uneven bars final as China's Huang Huidan took gold.
McKayla Maroney won women's vault gold with a score of 15.724 ahead of fellow American Simone Biles.
In the men's rings final, Brazil's Arthur Nabarrete Zanetti won gold with a routine which scored 15.800.