MLB: St Louis Cardinals go 2-0 up on LA Dodgers, Detroit Tigers beat Boston Red Sox 1-0
The St Louis Cardinals moved 2-0 up on the LA Dodgers, while Detroit Tigers drew first blood against the Boston Red Sox.
Last Updated: 13/10/13 9:15am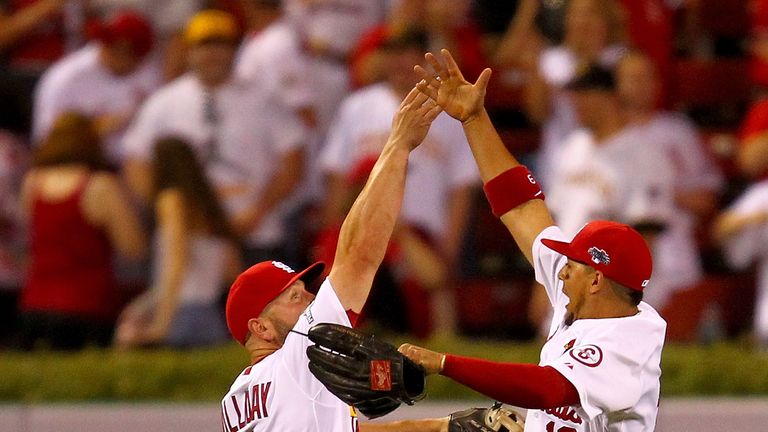 It was a day for the pitchers on Saturday with just two runs scored over the two games with two 1-0 wins occurring on the same day for the first time in post-season history.
Rookie Michael Wacha out-duelled Clayton Kershaw as the St Louis Cardinals took a stranglehold on their National League Championship Series with the Los Angeles Dodgers by edging game two 1-0.
Wacha hurled 6 2/3 shutout innings, scattering five hits while walking one and striking out eight to help the Cards take a 2-0 advantage in the best-of-seven series.
Dodgers ace Kershaw was also stellar, allowing just an unearned run in six innings, but was going on short rest and was therefore lifted after just 72 pitches.
The only run came on Jon Jay's sacrifice fly in the fifth, which came after David Freese doubled and advanced to third on a passed ball.
The series now moves to Los Angeles for game three on Monday.
In Boston, starter Anibal Sanchez and four Detroit relievers came within two outs of pitching the first ever no-hitter in MLB post-season history as they strangled the Red Sox hitters.
They had to settle for the 1-0 victory in the end to strike first in the American League series as the two sides battle for a place in the World Series.
"Besides the no-hitter, the most important thing is to win," Sanchez said. "They've got a pretty good team, they've got a pretty good lineup. We need to continue to play like that.
"Today I just tried to put the ball on the corners. I didn't want to miss anything in the middle -- that's why I had a lot of walks. I just tried to get the guys out."