Duel in the Pool: Europe lead 68-54 against USA after day one of Glasgow event
Michael Jamieson won the 200m breaststroke as Europe opened a 68-54 lead on USA after day one of the Duel in the Pool.
Last Updated: 21/12/13 5:10pm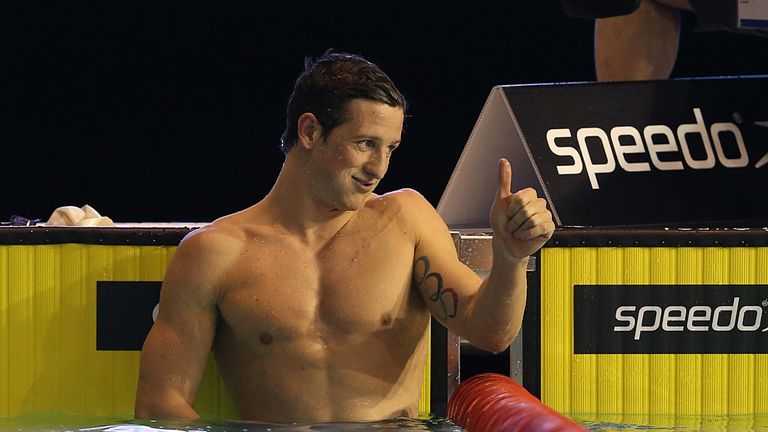 The 25-year-old, whose heartbeat became irregular during a training exercise in November, claimed first place in the 200 metres breaststroke in front of around 2,000 supporters at the Tollcross Swimming Centre.
It proved to be a good night for the European Allstars as a whole, as they led Team USA 68-54 at the end of day one of the two-day event.
Jamieson said: "I can't believe how many people are here - it's great.
"This will also be the venue for the 2014 Commonwealth Games and it's great to sample what the environment is going to be like."
History
The Americans arrived in Glasgow in confident mood following impressive showings in Duels in the past.
Having previously competed and impressed against Australia between 2003 and 2007, there were also comprehensive wins against the Europeans in Manchester in 2009 and Atlanta in 2011.
They touched down in Scotland without some of their big names, such as Ryan Lochte, but still boasted formidable talent.
However, the signs were good early on for the Europeans, who got off to an impressive start in the women's 400m individual medley.
First place went to Spaniard Mireia Belmonte, with team-mate and British Olympian Aimee Willmott in second and Caitlin Leverenz in third spot for the Americans.
The 8-1 advantage was quickly wiped out in the men's event. Already a proven short course talent, it was no real surprise to see Conor Dwyer come out on top, ahead of compatriot Chase Kalisz and Europe's David Verraszto.
It continued to be a more encouraging affair for Europe than previous Duels, with Swede Michelle Coleman and France's Yannick Agnel triumphing for the home team in the 100m freestyle events, before Ukrainian Daryna Zevina won the 200m backstroke.
Zevina said: "It was a hard race and I'm tired but it was a great race. I was happy to get some points for Europe."
Cheer
There was a massive cheer for Scottish swimmer Craig McNally in the men's race but he finished fourth, with American Eugene Godsoe the victor and the standings 31-23 in favour of Europe after six events.
More disappointment followed when Hannah Miley finished second last in the 200m breaststroke, as Micah Lawrence took maximum points for America.
But the feelgood factor was back in the arena as local hero Jamieson stepped up for the men's event and lived up to the crowd's expectations with a first-place finish with a time of 2.01.83.
Mixed results followed in the 100m butterfly - Denmark's Jeanette Ottesen and American Tom Shields claimed the points as what was proving to be a closely-fought affair saw Europe lead by 49-41 after 10 events.
There was further success for Belmonte in the 400m freestyle but Agnel was denied a second win of his own.
He was beaten into second spot by American Michael Klueh, while it proved to be an encouraging display from British teenager James Guy, who finished fourth with a time of 3.40.57.
The 4x100m medley relays saw Europe's women come out on top and USA's men win their race, setting up a tantalising second day.
Watch the Duel in the Pool on Sky Sports 2HD on Saturday at 2:15pm.