Oscar Pistorius pleads not guilty on dramatic opening day of murder trial
Oscar Pistorius pleaded not guilty to murdering his girlfriend on a dramatic opening day of his trial in Pretoria.
Last Updated: 03/03/14 4:11pm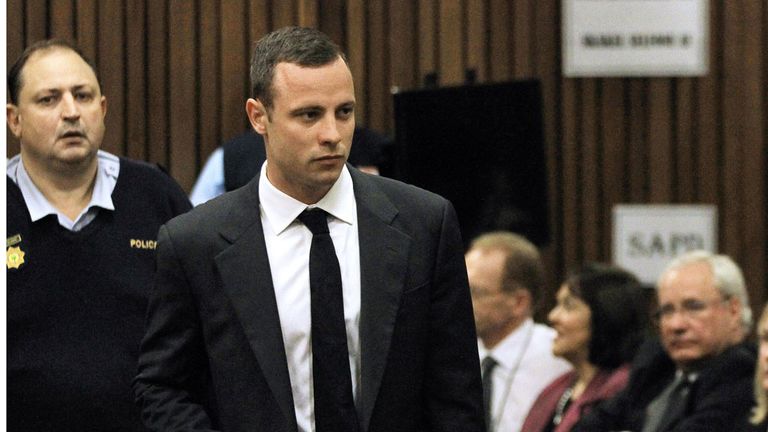 The Paralympian superstar faces a life sentence if he is found guilty of killing Reeva Steenkamp on Valentine's Day last year.
But on the first morning of the trial the South African confirmed he will fight the charge.
After a state prosecutor charged that Pistorius "unlawfully and intentionally did kill" Steenkamp, he entered a plea of "not guilty, my lady" to the judge, Thokozile Masipa.
He also pleaded not guilty to three unrelated gun charges.
Pistorius' lawyer, Kenny Oldwage, described Steenkamp's death as a "tragic accident," admitting the 'Blade Runner' did kill the reality TV star, but only after mistaking the 29-year-old as an intruder.
Pistorius said: "This allegation is denied in the strongest terms. We were in a loving relationship."
Dramatic evidence
There was dramatic evidence from the first witness to take the stand - Pistorius' neighbour Michelle Burger.
She said she and her husband were woken up at around 3am by "bloodcurdling screams" coming from Pistorius' home.
Burger said: "She (Steenkamp) screamed terribly and she yelled for help. It was something you can't explain to someone else, how anxious those screams were.
"Just after her screams, I heard shots, four shots," she said, describing one clear shot then three clustered together.
"I heard petrified screaming before the gunshots, and just after the gunshots."
Burger was challenged over potential inconsistencies, asking in particular why she heard four gunshots but her husband, who is yet to testify, reported hearing five or six.
The trial was then adjourned until Tuesday.
The first day of the trial is the first time the victim's mother June came face-to-face with Pistorius since the killing.
"I want to look at Oscar, really look him in the eyes, and see for myself the truth about what he did to Reeva," she told a British newspaper ahead of the trial.
Sky News will be providing in-depth coverage of the Oscar Pistorius trial.