Oscar Pistorius trial hears from doctor before day four adjournment
Oscar Pistorius broke down in court as a neighbour described the moments he tried to save Reeva Steenkamp's life.
Last Updated: 07/03/14 6:40am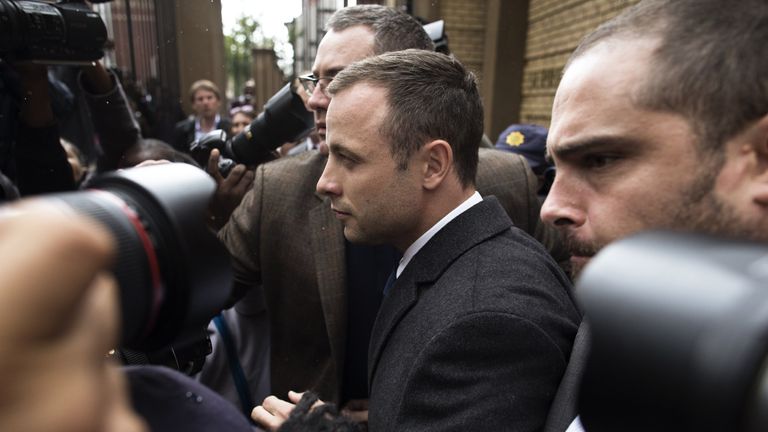 The testimony was the first detailed, public description of the immediate aftermath of the shooting of the 29-year-old model, by the Paralympic champion on 14 February last year.
Prosecution witness Dr Johan Stipp went to Pistorius' residence after being woken in the night 'by three loud bangs'.
He said: "I got inside and there was a lady (Reeva Steenkamp) lying on her back.
"I also noticed a man (Pistorius) kneeling on her side, on the left side. I remember the first thing he said when I got there was 'I shot her, I thought she was an intruder. I shot her.'"
He added: "Oscar was crying and praying to God. At one stage he said he would give his life over to God if she would survive.
"First thing, I checked her pulse and airway. She was clenching down as Pistorius was trying to open her airway.
"I opened her right eyelid. Her cornea was milky, obviously already drying out. To me it was obvious she was mortally wounded."
Earlier, before the trial was adjourned for the day, Pistorius' defence team claimed it would have been 'impossible' for neighbours to have heard screams on the night Ms Steenkamp died.
Timing
Lawyer Barry Roux said the claims of Charl Peter Johnson, a fellow neighbour within the gated community, that he had heard gunshots followed by a woman screaming were incorrect.
"At the time you heard the deceased, she was in a locked bathroom," said Mr Roux.
"You cannot hear it inside your house. At any distance, she was in a locked bathroom.
"The deceased was in the toilet and the door was locked. Even standing on the balcony, it would have been impossible to hear the screams."
Both Mr Johnson and his wife Michelle Burger insist they heard a woman's screams during the shooting.
The timing of a woman screaming is key to the prosecution. The claims by neighbours that they heard the screams suggest Pistorius would have known it was Ms Steenkamp, rather than an intruder, as he fired the gun through the locked bathroom door.
On top of the premeditated murder allegation, Pistorius faces a charge of illegally possessing ammunition and two further counts related to shooting a gun in public in two separate incidents before the killing.
He denies all the charges, maintaining he shot Ms Steenkamp after mistaking her for an intruder.
The Paralympian could face 25 years in jail if he is found guilty.
You can follow proceedings throughout the trial on Sky News