Oscar Pistorius: Paralympian to take stand in trial
It has been confirmed that Oscar Pistorius will, at some point, take the stand at his trial in Pretoria.
Last Updated: 07/03/14 5:07pm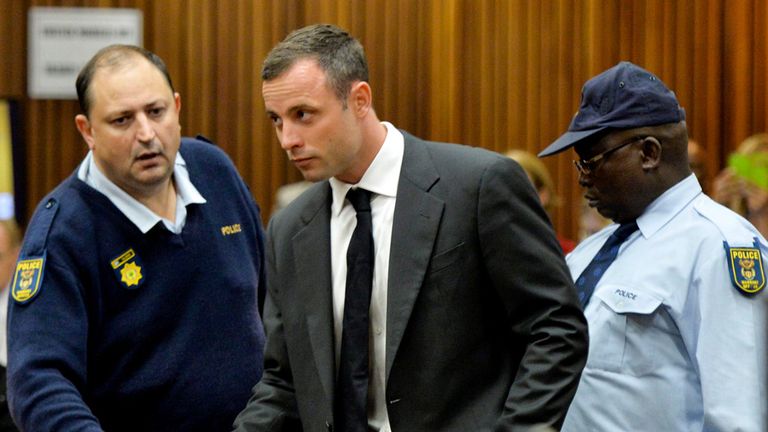 Samantha Taylor also told how Pistorius once shot a bullet through the roof of a car sunroof - and on another occasion waved a gun at a car which he thought was following him.
Her evidence came on the fifth day of the trial at the Pretoria court, where a Pistorius family spokesperson Anneliese Burgess confirmed for the first time that the athlete will, at some point, take the stand at the trial.
The trial was later adjourned for the week and will resume on Monday 10 March.
During her testimony, Ms Taylor said that Pistorius once woke her fearing there was an intruder in the house and got up to investigate with his gun.
She said that he nearly always kept a gun on him and once became very angry when police stopped a car he was travelling in.
Pistorius, who was allegedly a passenger in the car, fired his gun out of the sunroof about 15 minutes after the vehicle was pulled over by police.
She said that Pistorius was angry about being stopped by the police but later joked about wanting to 'shoot a robot' - slang for a traffic light.
She wept, and the court was adjourned twice, as she said how 'upset' she was about the couple's break-up and the fact that she had been cheated on.
Waved his gun
Miss Taylor said that on one occasion Pistorius was followed by a white Mercedes car and that Pistorius leapt out of his car as he approached the entrance to his gated community and waved his gun at the white car, which then drove off.
The court also heard from Pieter Baba, a security guard employed by the gated community where Pistorius lived.
He said the athlete told him everything was 'fine' when he called to investigate reports of gunshots on the night Reeva Steenkamp died.
He said Mr Pistorius called him back later, crying but not saying anything, before the line went dead.
"Mr Pistorius said to me 'security, everything is fine'," Baba said. "That's when I realised that Mr Pistorius was crying."
On top of the premeditated murder allegation, Pistorius faces a charge of illegally possessing ammunition and two further counts related to shooting a gun in public in two separate incidents before the killing.
He denies all the charges against him and maintains he shot Ms Steenkamp after mistaking her for an intruder.
The athlete could face 25 years in jail if he is found guilty.
You can follow proceedings throughout the trial on Sky News