Badminton: Li Xuerui beat Ratchanok Intanon to reach the final in Birmingham
Olympic Champion Li Xuerui avenged defeat by Ratchanok Intanon to reach the final of the All-England Open championships
Last Updated: 08/03/14 6:39pm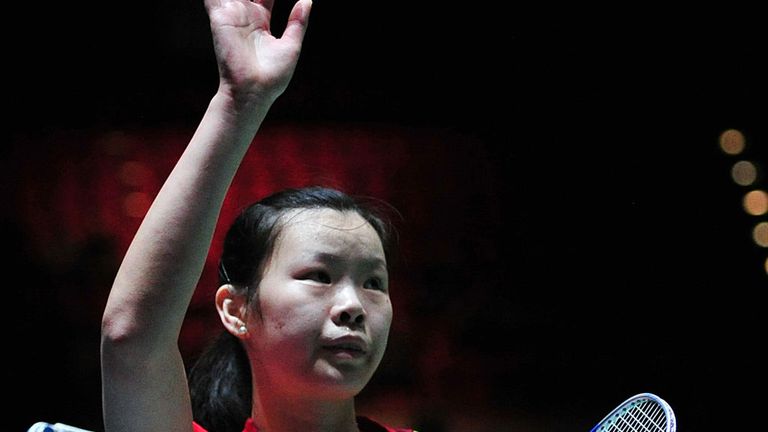 Intanon became the youngest ever world champion at the age of 18 years by beating Li in the final in Guangzhou just seven months ago.
But after a good start in Birmingham on Saturday she was outplayed 21-18, 21-8 by the 23-year-old Chinese player in the semi-finals.
Li, one of the most talented of stroke-makers, ended the match with a rush, taking advantage of Intanon's increasing discomfort from a calf injury, although the difference in the states of mind of the players was also significant.
Li was less tense than before her home crowd in August and since then Intanon has found the pressure tough as a target for everyone to beat.
"Compared with my three previous matches this was a much more relaxed performance," Li said.
"I was also more relaxed than in the world championships and I just tried to go for it."
Li's final opponent is Wang Shixian, the 2011 All-England champion, who beat Wang Yihan, the former world champion, with surprising ease by 21-8, 21-15.
Earlier Lee Chong Wei, the world number one from Malaysia, made a tremendous recovery from a game and 15-17 down against Son Wan Ho before squeezing out a thrilling 14-21, 21-19, 21-15 win against the Korean.
It earned Lee a repeat of last year's final against Chen Long, the defending champion from China, who progressed more comfortably with a 21-17, 21-14 win over his compatriot Wang Zhengming.
It means that China, which is also represented in the finals of the women's and mixed doubles, could win four of the five titles on Sunday.