Oscar Pistorius sick as he hears evidence of Reeva Steenkamps' fatal injuries
Oscar Pistorius was sick in court as he heard graphic details about the fatal injuries suffered by Reeva Steenkamp.
Last Updated: 11/03/14 7:12am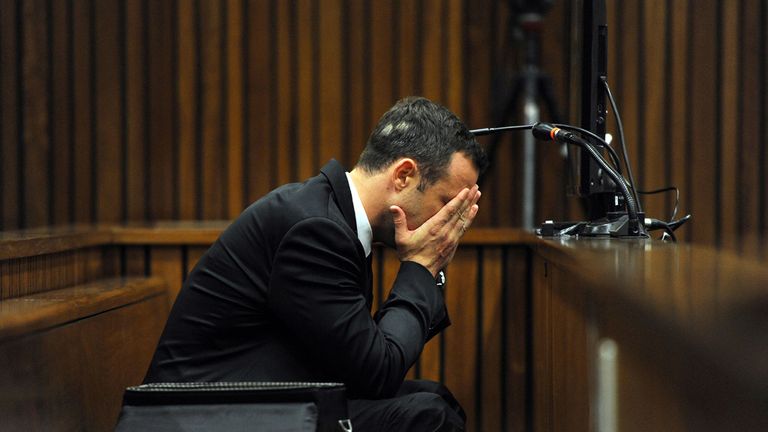 Pistorius is standing trial for the murder of Steenkamp on Valentine's Day last year. He admits shooting her, but insists that he mistook Steenkamp for a burglar.
The sixth day of his trial saw pathologist Gert Saayman ask the court for his evidence to be heard in private. He argued that the graphic nature of the description of Steenkamp's injuries should not be broadcast out of respect for the victim and her family, and also because it would upset children who may be watching or listening to the trial.
"Broadcast would compromise the privacy of the deceased, hurt the interests of the Steenkamps and be against the morals of society," he said.
Judge Thokozile Masipa agreed and imposed a media blackout, extending the ban to live reporting on Twitter.
Saayman was interrupted several times by Paralympic and Olympic star Pistorius sobbing and retching, though his defence team did not ask for an adjournment, saying a break would not improve his state of mind.
In his testimony, Saayman confirmed that Steenkamp was hit in the head, arm and hip by three shots fired through the locked door of a toilet cubicle. A fourth round fired by Pistorius missed.
Saayman also disclosed Pistorius was using 'hollow-point' rounds, ammunition designed to disintegrate on impact with tissue to cause maximum damage.
Her right upper arm was shattered, the hip wound could well have been fatal, while the shot to her head would have incapacitated her immediately, he added. No blood was found in her airways, suggesting she breathed only a few times before dying.
In between sobbing and retching, Pistorius sat with his head bowed, covering his ears with his hands and a white handkerchief.
Saayman is the first expert to testify at the trial, which has so far heard several witnesses who reported hearing a woman screaming before a volley of shots in the early hours of February 14.
The trial continues on Tuesday.