Photographs of bare-chested Oscar Pistorius shown on day ten of trial
Photographs of a bare-chested Oscar Pistorius taken after his girlfriend Reeva Steenkamp's death were shown on Friday.
Last Updated: 14/03/14 6:16pm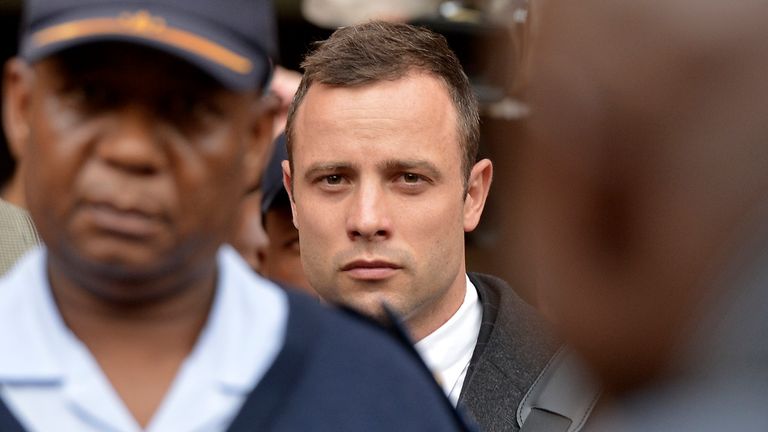 In one image, the athlete was seen drenched in blood from the waist down, his prosthetic legs a grisly red.
Another picture showed the 27-year-old South African clenching his hands, with blood smeared across his left arm.
Pistorius is accused of murdering his girlfriend, but he denies the charge, insisting he mistook her for a burglar when he shot her through the bathroom door on Valentine's Day last year.
The door was central to proceedings on Friday morning.
The court heard how the door of Pistorius' bathroom was dismantled, stored in body bags and kept in former police colonel Schoombie van Rensburg's office where it could be guarded by security.
The door was propped up against a desk for several days, although Mr van Rensburg, who was among the officers sent to Pistorius' home, insists it was not tampered with.
Asked by defence lawyer Barry Roux what he found when he arrived at the house, Mr van Rensburg recalled seeing a pellet gun and an empty cartridge as he made his way towards the bedroom.
Pistorius was "crying and upset" and in an "emotional state", he said.
Mr van Rensburg told the court he followed a "blood trail" to the bathroom, where two mobile phones and a discarded tissue were found.
A gun holster and a magazine discovered on a bedside table were seized, along with rounds of ammunition, he said.
Tampering denied
Mr van Rensburg repeatedly denied tampering with evidence at the scene. However, he admitted he failed to spot a door in Pistorius' home had been sealed in different ways in two photographs, as Mr Roux sought to identify holes in the police investigation.
"How do you feel about your ability to observe?" Mr Roux asked. "Let's say, I think a lot of times it's quite good," Mr van Rensburg replied.
The court was also shown photographs of a white mobile phone, lying in clear view on a tiled bathroom floor, which Mr van Rensburg said was obscured by a towel when he first entered the room.
"The cell phone was not visible like this", he confirmed. Mr Roux then asked: "When can we rely on a crime scene photo as a true reflection?"
"The first photographs taken of the scene are the most important," Mr van Rensburg replied.
The images come after further graphic evidence was shown to the court in Pretoria on Thursday.
Pistorius vomited as images of blood stains on floors, walls, stairs and chairs in his home were displayed. Photos of 29-year-old Ms Steenkamp's body, including close-ups of her various injuries, were also shown accidentally.
Pistorius is charged with premeditated murder, as well as illegally possessing ammunition and two further counts related to shooting a gun in public in two separate incidents before the killing.
He denies the charges and says he shot Ms Steenkamp by mistake after mistaking her for an intruder.
The trial continues on Monday.