The defence lawyer for Oscar Pistorius is painting a picture of a disorganised crime scene
The Oscar Pistorius trial has been adjourned after his defence team spent day 12 cross-examining a police photographer
Last Updated: 18/03/14 3:57pm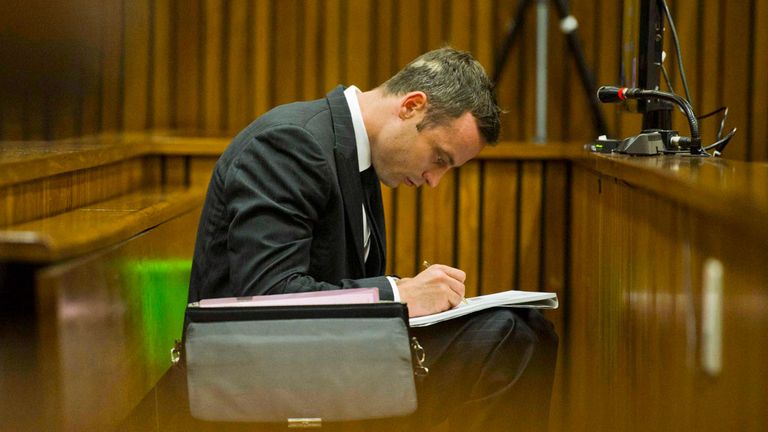 The 27-year-old Pistorius shot dead his girlfriend Reeva Steenkamp on Valentine's Day last year but the Paralympian is fighting charges of premeditated murder.
Pistorius says he shot Steenkamp four times through a locked bathroom door because he was under the mistaken impression that she was an intruder.
And his lawyer Barry Roux questioned police photographer Bernie van Staden on Tuesday.
Van Staden took photos of the crime scene and Roux accused him of moving evidence, and pointed out possible contradictions in his testimony.
The defence team have been trying to paint a picture of a disorganised crime scene, and hope to suggest police errors have contaminated the scene to such an extent that the evidence gathered should not be used against Pistorius.
Van Staden said he moved bloodied towels and a duvet to check for evidence beneath the objects, but always took pictures of the original scene.
But Roux asked Van Staden: "How does it happen there was such great disturbance in that scene?" with regard to pictures showing bedsheets had been moved.
Roux also said metadata on crime scene photos showed "a great overlap" in the times different photographers were documenting the scene.
This contradicted claims that the photographers worked separately and allowed Roux to paint a picture of a disorganised scene, with several people taking pictures at the same time.
"You were taking photos together in the bedroom and bathroom," Roux said to van Staden, who had earlier testified that he was alone when photographing the bathroom.
The court also heard evidence from Captain Christian Mongena, a ballistics expert, who talked about examining the trajectory of the bullets using a laser beam to try and determine whether Pistorius was on his stumps or wearing his prosthetic legs when he fired the fatal shots.