Massaro crowned world champion
Laura Massaro has become Britain's first women's squash world champion since 1999 after beating Nour El Sherbini.
Last Updated: 23/03/14 2:51pm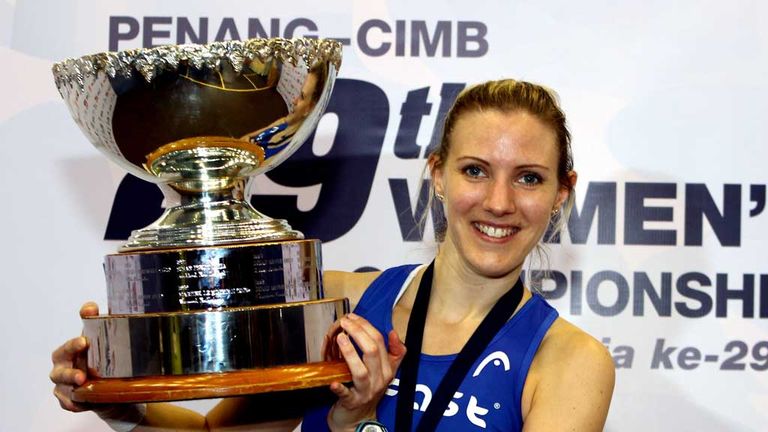 The 30-year-old from Preston prevailed 11-7 6-11 11-9 5-11 11-9 in front of a full house in Penang.
World No 2 Massaro started strongly and used every inch of the court to her advantage to gain the upper hand at 11-7.
But Sherbini, who had produced the shock of the championship by claiming the scalp of top seed Nicol David, was no pushover and her excellent front-court play brought her level after the second game at 1-1.
The third game saw both players trade points until 9-9, but Massaro held her nerve to win and take the lead for the second time.
The pendulum swung in Sherbini's favour in the fourth game, the 18-year-old racking up seven consecutive points to win 11-5 and tie the scores at 2-2.
Biggest prize
The deciding fifth game was as close as it got, but Massaro again showed nerves of steel to win 11-9 and claim the game's biggest prize.
Massaro, the first Englishwoman to win the title since Cassie Campion in 1999, said: "It was an emotional battle for me today. I felt really nervous, but I feel this whole tournament has been based around being mentally strong and being gritty when it counts, and that's what I'm most proud of.
"I hate to lose a game because I think I'm quite hard to beat. People actually have to beat me - they are never given the game.
"It's going to be amazing going back with this title. Winning the British Open last year was huge, so it's going to be special to say that I'm both the British Open champion and world champion."
Massaro also paid tribute to her young opponent, who had pushed her all the way in the final.
"She is the future of the game. I'm glad I managed to get a win while I still could," she said.