Reeva Steenkamp told Oscar Pistorius that she was 'scared' of him
Reeva Steenkamp told Oscar Pistorius that she was scared of him, his murder trial has heard.
Last Updated: 25/03/14 6:58am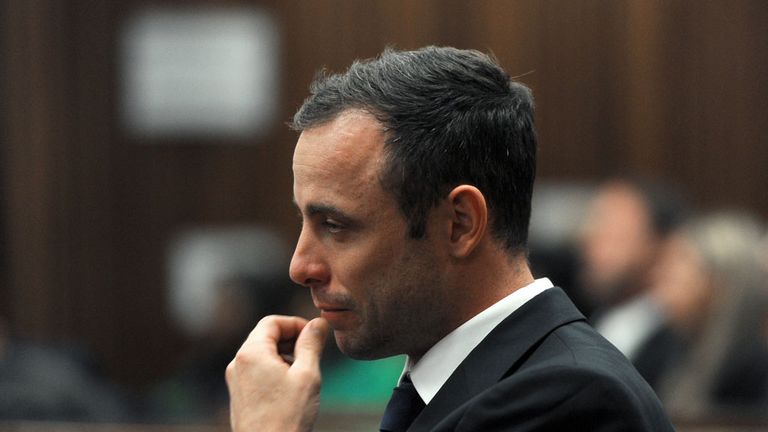 Pistorius, who is accused of murdering his girlfriend on Valentine's Day last year, was back in court on Monday as the trial entered its fourth week.
The prosecution is expected to wrap up its case this week. On Monday the court was told of text messages Steenkamp sent to the Paralympic star just three weeks before she was killed.
"I'm scared of you sometimes and how you snap at me and how you react to me," Steenkamp said via messaging service WhatsApp after the athlete was apparently jealous when she appeared to flirt with another man.
Police cellphone expert Francois Moller read out several exchanges between the couple.
He said 90 percent of the messages were loving, but in one long message Steenkamp said the athlete had been picking on her "incessantly".
"We are living in a double standard relationship where u can be mad about how i feel with stuff when u are very quick to act cold and offish when you're unhappy," Steenkamp wrote on January 27 last year.
"You make me happy 90 per cent of the time and I think we are amazing together, but I'm not some other bitch not trying to kill your vibe," she added.
"Why try anymore? I get snapped at and get told my accents and voice is annoying," she continued.
Police downloaded call records and data from two iPhones, two Blackberries and two iPads found at Pistorius's home after he shot dead the 29-year-old model.
In earlier testimony on Monday a neighbour said that she heard gunshots as well as screams from both a man and a woman on the night of the murder.
Anette Stipp's testimony was similar to some of the evidence given by other witnesses earlier in the trial who said they also heard a woman screaming around the time that Pistorius killed Steenkamp.
According to Pistorius' version of events, he thought Steenkamp was in bed when he fired his pistol.
The defence has countered that the neighbours were actually hearing Pistorius screaming in a high-pitched voice after he shot Steenkamp, a 29-year-old model.
Stipp said under cross-examination that she heard gunshots while lying awake around 3am on the night of the shooting, and then heard the "terrified, terrified" screams of a woman. Her bedroom is situated across a grassy area about 70 meters from Pistorius' home, and the windows of the athlete's bathroom are visible from her window.
"The screaming at that stage just continued," said Stipp.
She said she told her husband Johan, who previously testified, that the screaming sounded as though a "family murder" had taken place.
"There was definitely a female screaming for quite a period," Stipp said. "You could definitely hear two different voices."
She said she then heard a second set of shots, and the screaming stopped.
Pistorius' camp insists that he fired with quick bursts that gave Steenkamp no time to scream, and so he did not realise he was shooting at Steenkamp. A South African police ballistics expert, however, has testified that the first of three bullets that struck Steenkamp hit her in the right hip, giving her time to scream before she was hit in the arm and head.
The athlete denies the premeditated murder charge, saying the couple were in a loving relationship and that he fired four shots through a locked toilet door after he mistook Steenkamp for an intruder.
The trial continues on Tuesday.