Oscar Pistorius trial: Tearful Paralympian describes night of shooting
Oscar Pistorius broke down in court again on Tuesday after giving further evidence in his murder trial.
Last Updated: 08/04/14 3:52pm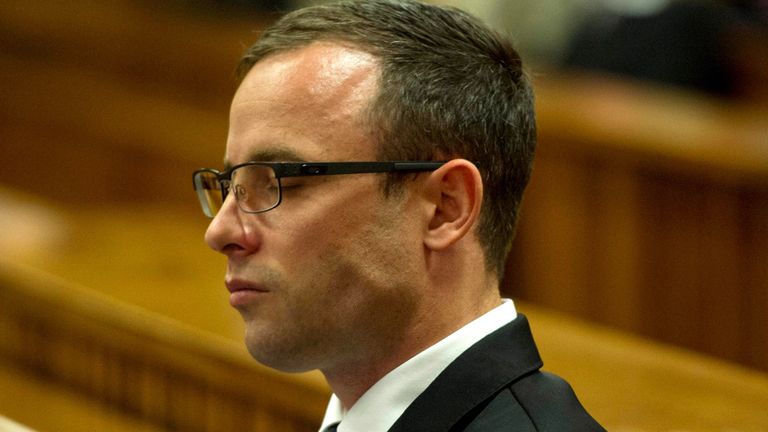 The Paralympian delivered harrowing testimony about the moment he shot dead girlfriend Reeva Steenkamp last year, telling the hearing he had believed she was an intruder.
After recalling the moment he found his girlfriend's body in the toilet, his loud sobs forced an early adjournment for the second day running.
"I heard a noise from inside the toilet, which I perceived to be someone coming out of the toilet," the athlete said tearfully. "Before I knew it I'd fired four shots at the door.
"I sat over Reeva and I cried. She wasn't breathing."
Earlier, Pistorius had taken off his prosthetic legs in the Pretoria courthouse to relive the moments leading up to the shooting on Valentine's Day.
The prosecution alleges Pistorius shot Steenkamp intentionally following an argument but the 27-year-old sought to describe a loving relationship, explaining how the pair had exchanged Valentine's Day gifts and "chatted about their days" over dinner.
He described how he had begged Steenkamp to call the police and how he had grabbed his gun in darkness after hearing a window open in the bathroom - a sound he said he mistook for a burglar.
Froze
"I just froze," he said. "I heard a noise and I interpreted it as someone climbing into the bathroom.
"The first thing that ran through my mind was that I needed to arm myself, to protect Reeva and I ... I whispered to Reeva to get down and phone the police. I was overcome by fear.
"It did not occur to me at the point that it could be Reeva (in the bathroom)."
After the shooting, Pistorius said he had returned to his bedroom, only to feel the bed empty, before entering the toilet and discovering what he had done.
He began crying uncontrollably, wailing: "She was everything," before proceedings were brought to a close.
Pistorius denies premeditated murder and illegal possession of ammunition, as well as two further counts related to shooting a gun in public in separate incidents prior to the killing.
He could face life imprisonment if convicted.