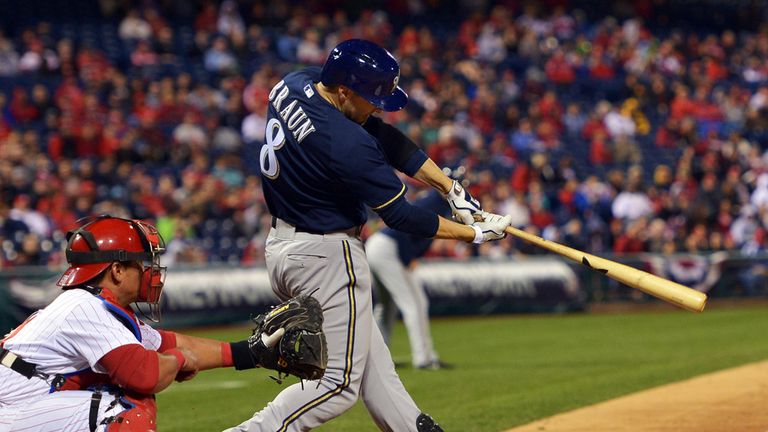 The Milwaukee Brewers continued their impressive form at the start of the new season with a 9-4 victory over the Philadelphia Phillies.
Ryan Braun's two-run triple in the eighth inning and Mark Reynolds' two-run homer in the ninth helped the Brewers claim a fifth successive win from a perfect opening road trip.
That form has left Milwaukee leading the pack in the National League Central ahead of the Pittsburgh Pirates, who were beaten 7-5 by the Chicago Cubs.
The only other team who have enjoyed as good a start as the Brewers are the Washington Nationals, who also boast a 6-2 record after seeing off the Miami Marlins 10-7 - having fought back from a five-fun deficit, Jayson Werth's grand slam in the bottom of the eighth helping to seal the win.
The San Francisco Giants would boast the best record in the MLB with seven wins from nine if they had managed to defeat struggling Arizona - who had lost seven of 10 previously - but the Diamondbacks stunned the NL West leaders 7-3.
Shared
Defending champions the Boston Red Sox picked up only their fourth win in nine games as they defeated the Texas Rangers 4-2 following David Ortiz's go-ahead three-run homer in the eighth.
The St Louis Cardinals, who lost to Boston in the World Series last October, have a 5-4 record after going down 4-0 to the Cincinnati Reds.
The Cleveland Indians and San Diego Padres shared the honours in their double-header at Progressive Field, with the hosts winning the first game 2-0 before the Padres bounced back with a 2-1 triumph in the following clash.
DJ LeMahieu scored three runs as the Colorado Rockies brushed aside the Chicago White Sox 10-4 - six of the home side's runs coming in the eighth - while the Toronto Blue Jays beat the Houston Astros 7-3, the LA Angels defeated the Seattle Mariners 2-0 and the Kansas City Royals were 7-3 victors over the Tampa Bay Rays.
New York's Yankees and Mets both lost, going down 5-4 to the Baltimore Orioles and 4-3 to the Atlanta Braves respectively, while the Oakland Athletics beat the Minnesota Twins 7-4 in 11 innings and the Detroit Tigers saw off the LA Dodgers 7-6 in the 10th.