MLB: Milwaukee Brewers beat Phillies for sixth win in a row
Ryan Braun's thumb injury did not stop another multi-hit night as Milwaukee beat the Phillies for a sixth straight win.
Last Updated: 11/04/14 8:34am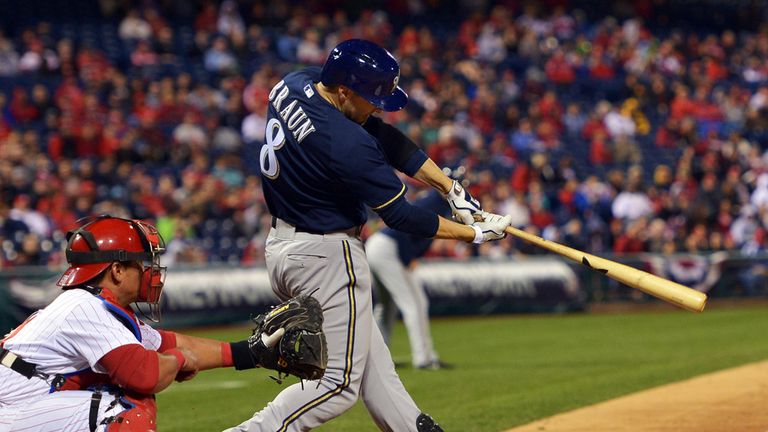 Braun went two-for-three with an RBI while Khris Davis knocked in two runs as the Brewers kept pace with National League rivals the Washington Nationals in the early battle for MLB's best record at 7-2.
Earlier, the Nationals had cruised to a 7-1 win over the Miami Marlins behind an eighth-inning grand slam from Ian Desmond and 6 2/3 dominant innings from Stephen Strasburg, who struck out 12 while allowing only one run.
Home runs from Travis Snider and Pedro Alvarez in a five-run seventh inning saw the Pittsburgh Pirates battle back from 4-0 down to beat the Chicago Cubs 5-4, while Eric Young Jr and Daniel Murphy combined to score six runs for the New York Mets in a 6-4 win over the Atlanta Braves.
Tony Campana singled home Cliff Pennington in the 10th inning as the Arizona Diamondbacks edged out the San Francisco Giants 6-5.
In the American League, the New York Yankees' patience with Michael Pineda finally paid off as he led them to a 4-1 victory over the Boston Red Sox.
More than two years after Pineda was acquired from Seattle, and after a lengthy rehab from shoulder surgery, the hard-throwing right-hander struck out seven in six dominant innings, although there was a touch of controversy as he was forced to deny having pine tar in his glove after the game.
Josh Donaldson and Sam Fuld each hit homers as the Oakland Athletics powered their way to a 6-1 win over the Minnesota Twins, while Robbie Grossman, Jonathan Villar and Jason Castro all went deep for the Houston Astros in a 6-4 triumph over the Toronto Blue Jays.
Jose Abreu's two home runs lifted the Chicago White Sox to a 7-3 success against the Cleveland Indians.