Oscar Pistorius has been told his version of events is "improbable" by the prosecutor
The prosecutor in the Oscar Pistorius murder trial has accused the world-famous athlete of "tailoring his evidence".
Last Updated: 11/04/14 4:37pm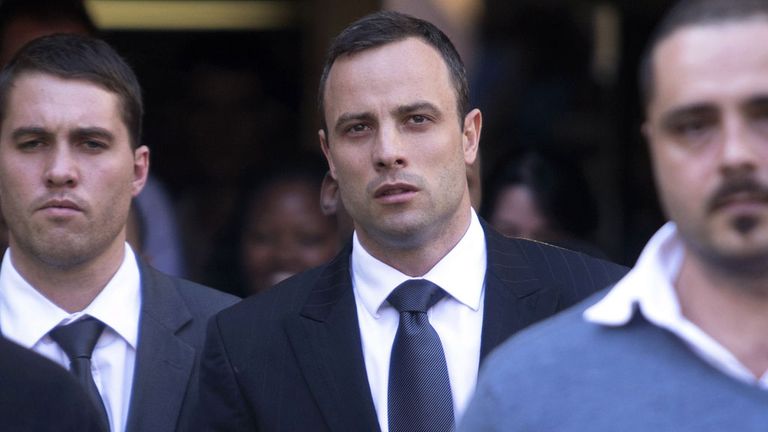 Pistorius denies murdering his girlfriend Reeva Steenkamp in Pretoria last year and says he shot her through a bathroom door because he mistakenly believed she was an intruder.
But chief prosecutor Gerrie Nel said on Friday that the "only reasonable explanation" for the shooting is that Pistorius killed the model after an argument.
Pistorius' first week on the witness stand came to an end on Friday and featured yet another dramatic exchange between the Paralympian and Nel.
At one point the confrontation led an emotional Pistorius to admit he could be giving inconsistent answers because he was tired, which prompted the judge to ask if he was able to continue with his evidence.
Asked why he was getting emotional, Pistorius told the prosecutor: "Because this is the night that I lost the person that I cared about. I don't understand why you can't understand it."
Nel challenges Pistorius
Nel spent much of Friday challenging Pistorius's version of what occurred on the night of Steenkamp's death.
Pistorius told the court that his first intention when he heard a noise on 14 February was "to put myself between the intruder and Reeva" and that he reached for his gun under the bed and told Ms Steenkamp to call the police.
But Nel thought it was curious that Pistorius had not checked more thoroughly on Steenkamp.
"You never checked up whether she was OK or if she was panicking," said Nel. "You never made contact with her and told her what to do. You whispered at her but you never looked at her?"
Pistorius said: "I did not whisper, I said it in a soft manner. I said 'get down and call the police'. I was sure that there was somebody in my house."
Mr Nel told Pistorius his claim that Ms Steenkamp was in the toilet but did not respond to his shouts was "the most improbable part of your story".
Nel said: "You are shouting and she is three metres away from you behind a door.
"There is no way you are going to convince the court that she stood there saying nothing. Why would she not say anything?"
Pistorius said: "I don't know."
Nel continued: "The only reason is that it is not true Mr Pistorius. She would have responded."
Pistorius said: "I can't say what she would have done, I don't think anybody can say what she would have done."
Nel said: "I think the state can. She was talking to you, that's the only reasonable explanation for her standing upright."
Pistorius said: "That's not true."
Nel added: "She was not afraid of anything, except you. She was not scared of an intruder, she was scared of you."
Pistorius said: "That's not true."
The trial has been adjourned until next week.