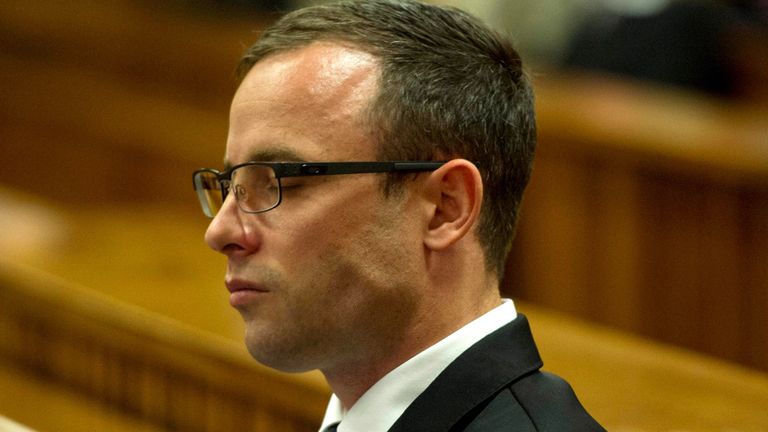 Oscar Pistorius returns to court on Monday morning for a fourth day of cross-examination after the prosecution accused him of deliberately shooting dead his girlfriend.
The day will mark the start of the 27-year-old's second week in the witness stand in his defence against murder charges for Reeva Steenkamp's death on Valentines' Day last year.
Prosecutor Gerrie Nel's relentless questioning has drawn tears and angry replies from the Paralympian superstar, who insists he shot Steenkamp four times by accident through a locked bathroom door, believing he was shooting an intruder.
Nel finished his interrogation on Friday with the dramatic accusation that Pistorius knew exactly what he was doing when he fired the lethal shots.
"You knew Reeva was behind the door and you shot at her," he said.
The prosecutor poured scorn on Pistorius's claim that he rushed to his bathroom after hearing a noise, then fired at the locked cubicle door thinking an intruder was coming out to attack him.
"Instinct would have made sure Reeva was safe. That was never your instinct: to make sure she was safe," Nel replied when Pistorius said he rushed towards danger "out of instinct".
He called the athlete's version "a lie".
Evasive
Pistorius was evasive during the tough questioning, with memory lapses in key parts concerning incriminating details.
"I'm not looking for an excuse, if I don't remember it I don't remember it!" he said, breaking down during one exchange about the placement of objects in his bedroom.
He accuses police of moving things on the crime scene, whose positions in photos afterwards called into question his version of events on February 14, 2013.
Pistorius claims he whispered to Steenkamp, a 29-year-old model, to call the police, before shouting loud at the intruders to get out, rushing with his gun to the bathroom, and firing at the cubicle door.
The accused says the model never replied when he started shouting, and that she never screamed while he fired the shots, but that he couldn't hear because his ears were ringing.
Several neighbours testified to hearing a woman's terrified screams that night.
Pistorius is likely to remain on the stand for another few days. The defence will then call up to 17 witnesses, including ballistics experts.
Originally scheduled for three weeks, the trial on Monday enters its sixth week and has been extended until May 16.