Diving: Olympic medallist Tom Daley seeking help to get over twist dive 'phobia'
Tom Daley is having therapy to try and eradicate an issue with his twist dive which he has described as 'terrifying'.
Last Updated: 27/04/14 9:43pm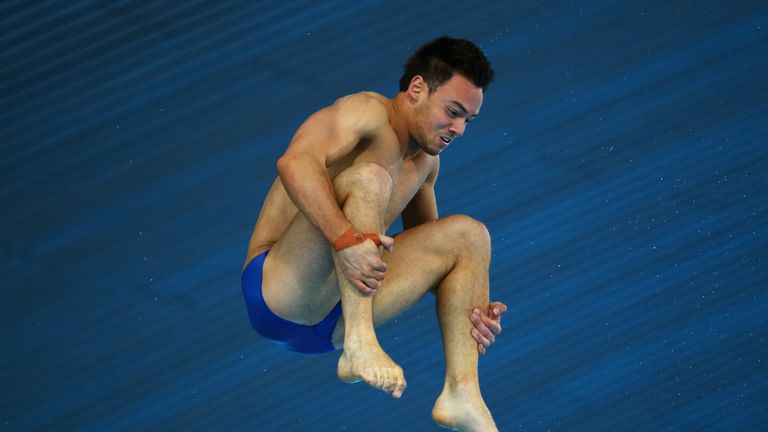 The 19-year-old finished fifth in the final of the 10-metre platform at the FINA Diving World Series, his first competitive appearance at the London Aquatic Centre since his bronze medal at the 2012 Olympics.
Despite a solid display, it was Daley's back two-and-a-half somersault with a two-and-a-half twist that once again proved problematic.
It is the same dive the Briton had to repeat during the Olympics following an ill-timed camera flash and he has not been able to land a satisfactory attempt in competition since.
Following his fifth-placed finish Daley admitted he was struggling to overcome the fear-factor that now surrounded the dive.
"The scale of this issue is massive," he said. "I'm trying every single thing possible to try and get it back to normal. I'm going under different types of therapy.
"It is almost trauma therapy - to get myself to process the things that have gone wrong on it to get it to a stage where I can forget about it and feel positive about it.
"I am literally terrified of it. I suppose you could call it a phobia and I don't know what my heart rate is when I go up there and do it but it's definitely above 180, something ridiculous, because it is so terrifying."
Title defence
Daley will now miss the next leg of the World Series in Moscow to work closely with coach Jane Figueiredo and is looking to replace the dive in his repertoire, something he does not think is possible before he launches the defence of his Commonwealth Games title in Glasgow.
"Frustratingly it (changing the dive) takes quite a long time," he said.
"We did try and start doing it after the national champs but we just don't have quite enough time to get to the stage where I feel comfortable doing it on 10 metre and then getting it ready for competition so it probably isn't going to be until after the Commonwealth Games."
The standard of competition in the men's final was high, with China's Yang Jian taking gold having set new world records for individual and total scores over the course of the event.
Silver went to Jian's compatriot Chen Aisen with Ukraine's Oleksandr Bondar taking bronze.
Daley scored the third-highest total across both of the morning's semi-finals but his second dive, incorporating the 'twister', once again proved to be his Achilles heel in the final.
Having scored just 61.20 on his unfavoured dive, Daley all-but put paid to his chance of repeating his 2012 medal success and ended the final 24.10 off the bronze-medal position.
Daley's British team-mate Tonia Couch finished last in the women's 10-metre platform event.
Having taken synchronised silver on Friday, Couch could not add individual success as London 2012 gold medallist Chen Ruolin of China repeated her triumph, with Canada's Meaghan Benfeito taking silver and bronze going to Pandelela Rinong of Malaysia.