Sochi 2014: Record number of positive tests
Sky Sports News can reveal that Sochi 2014 had the most positive drugs tests of any Winter Olympics.
Last Updated: 29/04/14 7:08am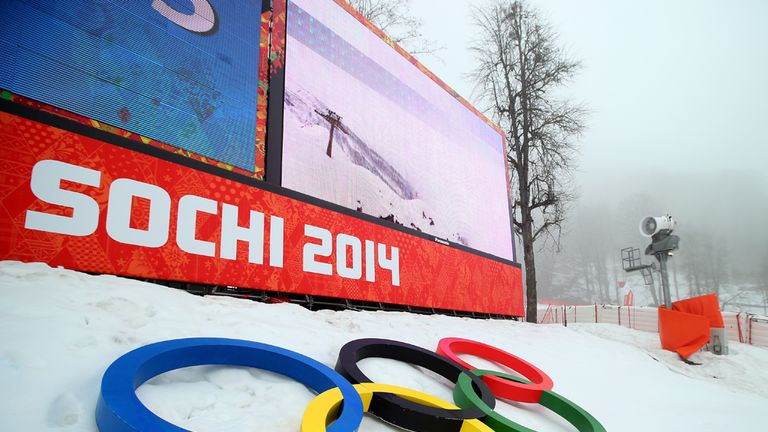 The latest athlete this week to be excluded from the Olympic Games is Latvian Hockey player Ralfs Freibergs after failing a drugs test at the Games in Russia in February.
The IOC disciplinary commission this week withdrew the Latvian team's eighth place position from the record books.
His expulsion has taken the total number of positive tests at the Sochi Winter Olympics to eight - the highest ever number of positives at a Winter Olympics since the IOC introduced the first drug testing at the Grenoble games in 1968.
The IOC undertook more drugs tests at the Sochi Winter Olympics than any other games with 2453 drugs tests.
In the first nine Winter Olympic Games there were 3715 tests across all Games, producing only five positive results.
In Salt Lake City in 2002 and Turin in 2006 there were seven positives per year. In Vancouver in 2010 the IOC conducted 2149 tests and got just one positive result.
Stringent
The following athletes tested positive at Sochi:
- German Evi Sachenbacher-Stehle, biathlon, tested positive for methylhexaneamine (dimethylpentylamine)
- Italian William Frullani, bobsled, tested positive for methylhexaneamine (dimethylpentylamine)
- Latvian Vitalijs Pavlovs, men's ice hockey, tested for methylhexaneamine (dimethylpentylamine)
- Ukrainian Marina Lisogor, cross-country, for the presence of trimetazidine
- Swedish Nicklas Backstrom, ice hockey, for the presence of pseudoephedrine
- Austrian Johannes Duerr, cross country, for the presence of EPO
- Polish Daniel Zalewski, bobsleigh, for the presence of n-ethyl-1-phenylbutan-2-amine
- Latvian Ralfs Freibergs, ice hockey, for the presence of dehydrochloromethyl-testosterone metabolite 18-nor-17b-hydroxymethyl-17a-methyl-4-chloro-5b-androst-13-en-3a-ol
An IOC spokesperson said: "The final drug-testing figures from the Sochi 2014 Olympic Winter Games underscore the IOC's firm commitment to protecting the clean athletes.
"The Sochi Games indeed featured the most stringent anti-doping programme in the history of the Olympic Winter Games both in terms of quality and quantity - a record 2,812 tests were conducted in total.
"More emphasis was placed on pre-competition and intelligence-based testing than ever before, with 1,528 tests (52 per cent) taking place pre-competition and 1,284 taking place post-competition.
"Of the 2,812 tests, 2,186 were urine and 626 were blood. Samples will be kept for 10 years for possible retesting in response to technological advances or new information about possible doping violations, adding to the deterrent effect of the whole programme."