MLB: Oakland A's run riot against Chicago White Sox
A pair of two-run homers from Brandon Moss helped Oakland A's to a sixth successive win as they drubbed the White Sox
Last Updated: 14/05/14 8:58am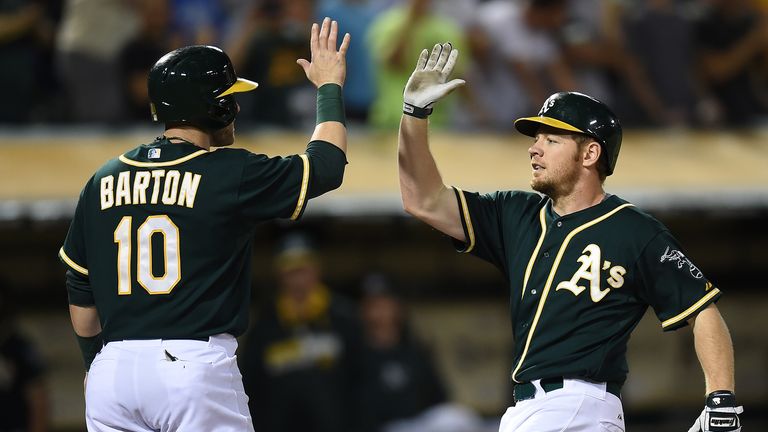 John Jaso had three hits and Josh Reddick chimed in with a two-run homer of his own as the A's ran riot.
Houston also enjoyed a big win, with the Astros seeing off the Texas Rangers 8-0.
Dallas Keuchel had a shut-out for the first time in his career and home runs from L.J Hoes and Carlos Corporan set-up the victory.
The New York Mets edged a high-scoring clash with the Yankees 12-7.
Subway Series
The Yankees' city rivals scored four runs in the first but they responded with three of their own and then carried on. Daniel Murphy's three-run shot in the fifth ensured another victory in the Subway Series.
Melky Cabrera was the hero for the Blue Jays as he shut down Carlos Santana to earn Toronto a 5-4 win over the Indians, Detroit saw off Baltimore 4-1 and the LA Angels were 4-3 victors against Philadelphia.
Atlanta cruised to a 5-0 win over the San Francisco Giants and LA Dodgers saw off Miami Marlins with ease too, winning 7-1.
Chris Parmelee scored a two-out, two-run homer as the Twins shaded Boston Red Sox 8-6, the Reds lost 2-1 to the Padres and the Cubs got the better of the Cardinals 4-3.
The Brewers were 5-2 winners against the Pirates, the Diamondbacks edged the Nationals 3-1 and Kansas City beat Colorado 5-1.